Football Notebook: Logan's No. 21 immortalized on Senior Night
By John Loop
Sports Writer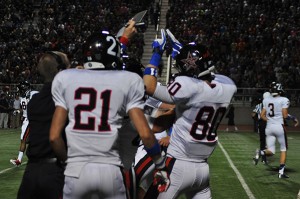 Four short years ago, the athletes of the Coppell High School Class of 2013 stepped onto Buddy Echols Field for the first time. Though it seems like just yesterday, this group of talented seniors are looking forward to making their last game one to remember.
Friday's game against the Lewisville High School Fighting Farmers will be nothing short of special, as the No. 21 of Jacob Logan, a senior this year before passing away on Oct. 14 in a tragic cliff-jumping accident, will be forever immortalized in Coppell football lore. Logan's jersey will be retired and no other player will be allowed to wear it ever again.
The seniors know it will be hard to play at the highest level without one of their teammates and brothers, as it has been throughout the four week period since Logan's death, but head coach Joe McBride continues to urge the team on through hardship.
"I expect them [these seniors] to play their heart out," McBride said. "I know they are very motivated; every one of them are ready to stand in the gap that [Jacob] left."
In Logan's absence, three different players have donned the No. 21: Senior wide receiver Jason Lister against Flower Mound on Oct. 19, Senior safety Colin Peterson against Flower Mound Marcus on Oct. 26 and finally junior cornerback and kick returner Troy Parker against Denton Ryan last week.
Though the Cowboys have made it through the season thus far with an undefeated record (both overall and in district play), McBride also believes that any number of wins will be enough to satisfy what this season means to this year's crop of graduating athletes.
"My challenge to them is to play to their full potential," McBride said. "Walk away from every game shocked that it is the best [they] have ever played. If that is 16 wins, that is great. If that is whatever [number of] wins, then that is great. Let us just reach our full potential."
The game is against the Farmers is a quite lopsided battle on paper, but Senior Night 2012 will be filled with emotions as the Cowboys remember their fallen brother, and seniors are recognized for their achievements and accomplishments on and off the field during their high school career.
Under Armour "Finding Undeniable" contest
Under Armour is sponsoring a contest to find a high school with the most athletic ability and pride. The winner receives $140,000 worth of new uniforms, shoes, and accessories to outfit the athletic team. The contest ends November 20. The contest will be scored through completing a series of video challenges, which will be conducted by our own KCBY team, and gaining supporters for the cause. For more information visit the Coppell Cowboys website.
-Alex Nicoll
Coppell's Masters out with shoulder injury
Cowboy's starting senior outside linebacker Tanner Masters is sidelined for the Lewisville game on Friday night with an apparent shoulder injury. He will be cleared for the first playoff game after the next game.
Masters suffered a dislocated shoulder injury while making a play on the ball against the Denton Ryan Red Raiders last Thursday night.
-Alex Nicoll
Monday: Volleyball
Tuesday: Cross Country
Wednesday: Football
Thursday: Golf
Friday: Tennis