Football Preview: Coppell vs. Flower Mound Jaguars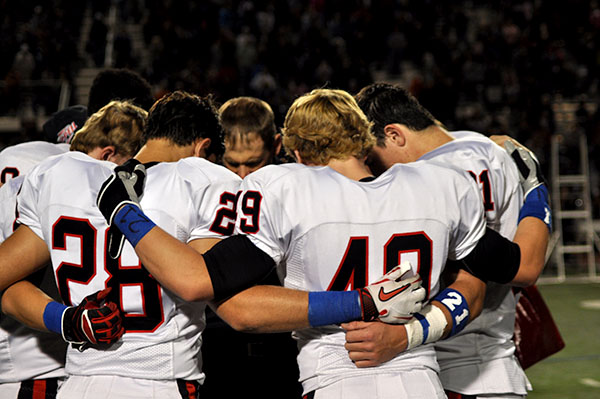 By John Loop
Sports Writer
To cap off a week that was an emotional roller-coaster for the football team, the Cowboys will travel to face Flower Mound High School as the Jaguars' homecoming opponent.
After losing a friend and teammate in senior wide receiver and defensive back Jacob Logan in a tragic accident at Possum Kingdom Lake on Sunday, Coppell will use Logan's spirit to fight on against the Jags.
The Jaguars come into the game on Friday with a 3-3 record overall, but started strong in district play with a nail-biting win over the Lewisville Fighting Farmers, 34-33.
Flower Mound is led by two multi-faceted dual threat quarterbacks in junior Connor Wanhanen and senior Matt Hirst.
Wanhanen scored the game-winning touchdown against the Farmers, accounting for two of his 46 rushing yards, but also passed for 229 yards and three touchdowns. Hirst completed all three of his pass attempts for 28 yards, and rushed for 37 yards.
Both quarterbacks have kept turnovers to a minimum, throwing only five interceptions in a total 168 passes attempted.
Although Wanhanen is the Jaguars' leading rusher (284 yards, 4 TD's), senior running back Cole McKeel packs quite a punch as well.
McKeel is drawing recruiting attention from Michigan State, TCU, Texas Tech, and Iowa because of his knack for being around the ball. Already having amassed 270 yards on 24 touches (2 TD's) rushing the ball, McKeel is also an established receiver out of the backfield, with 25 catches for 163 yards and one score.
On the defensive side of the ball, Flower Mound senior defensive end Sean Flynn leads an unpredictable Jaguar defense against Coppell senior quarterback Colby Mahon and the rest of the Cowboy offense.
Flynn, an honorable mention for the All-District 8-5A team last year, is seen by many to be the Jags' top defensive player. Standing at a towering 6-5, Flynn has manhandled opposing offensive linemen for 10 total tackles, including two sacks, through six games.
Junior linebacker Kevin Rutherford aids Flynn in the daunting Flower Mound front seven. Rutherford leads the team in tackles with 24, and provides a solid anchor to a defense that has allowed an average of 28.3 points per game. Senior linebackers Cole Fuller and Nick Bruce have also stepped up for the Jags.
Junior cornerback Nathan Liebsch bolsters an underachieving secondary. Liebsch has only one interception on the year, and the secondary has been burned consistently this season, giving up just over 200 yards passing per game.
The numbers show that this game should be no problem for Coppell, as quarterback Colby Mahon keeps his turnover-less streak at six games, and running backs Gavin McDaniel, Luke Jenner, and Charles West run wild against a defense that consistently yields over 400 yards of total offense.
But to say that the road to victory will be easy is quite an assumption, as the loss of Logan has placed heavy hearts in players and coaches.
Hopefully, Coppell will be thinking about Jacob as they dismantle the Jaguars on Friday night.