Coppell's defense flawless against Longview Lobos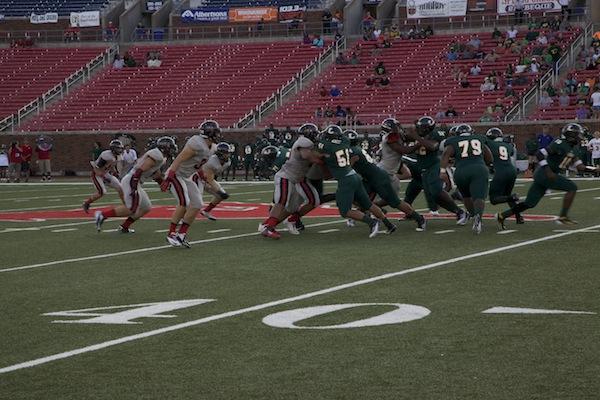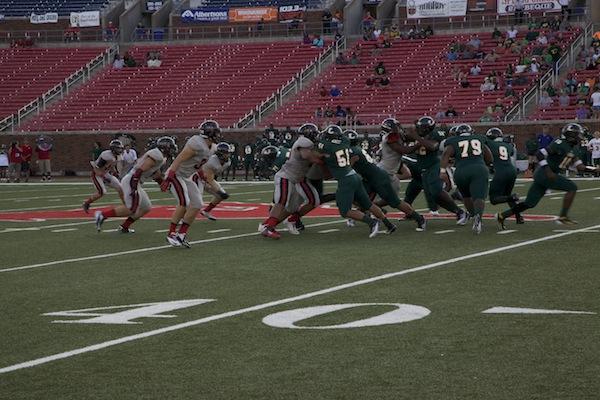 By Stephanie Gross
Staff Writer
An excellent Coppell High School defense frustrated the Longview Lobos offense in the Tom Landry Classic, which was played this past Saturday night at SMU's Gerald Ford Stadium.
The Coppell Cowboys upset the state's eighth ranked Lobos and held the team to just one touchdown in Coppell's 41-8 victory. The Coppell defense played as a solid unit and knocked the Lobos out of the game early.
The Lobos passed for a mere 78 yards which is almost unheard of in Texas high school football. In this regard, teams usually pass for between 150 and 200 yards per game.
The excellent defensive effort did not stop with shutting down the passing game, the Lobos ground game was similarly halted.  The Lobos only accumulated 138 yards on the ground.
"We knew that it was going to have to come down to the defense," Masters said. "The offense is still pretty new. Defense has always been Coppell's thing. We were just sure to come out strong and do our thing."
In the first half, Coppell's defense intercepted a pass and recovered two fumbles. The pass was intercepted and returned 55 yards by Coppell's defensive back Troy Parker to the Longview 1 yard line. Masters and junior linebacker John Herubin each forced a fumble.  Masters recovered both turnovers for the Cowboys.
Coppell took a 21-0 lead into half time.
The domination of Coppell's defense over Longview continued throughout the second half. After the game, the team was more than ecstatic about their victory. All of their hard work and dedication had paid off.
"Our expectations were to do exactly what we did," senior defensive back Jacob Logan said." We would rather it be zero, but eight is still good."
The preparation of Coppell's defense for this big game paid off.