Coppell milks Farmers for all they're worth
by Blake Seitz
Sports Editor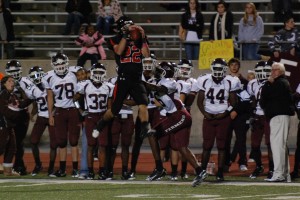 Coppell has had bad luck with turnovers this year, and Friday night was no exception. The curse went both ways in yesterday's game against Lewisville, though, allowing the Cowboys to post a decisive 48-0 win.
The offense put up convincing numbers against a lackluster Lewisville defense.
Senior quarterback Hayden Hawk threw for one touchdown on the night, a low number only because Coppell's ground game was unstoppable in the red zone: five of Coppell's six touchdowns were on runs of less than five yards.
Senior running back Cam McDaniel was once again the offense's workhorse, scoring all five of the touchdowns mentioned above. He was not confined to a role as a pile-pusher, though—he also accumulated 187 yards on the ground, his best on the season.
Despite its efficiency scoring, the offense was nonetheless plagued by turnovers—three Coppell drives in a row were stopped dead by lost fumbles or interceptions.
Head coach Joe McBride did not seem worried about the mistakes.
"Everyone makes mistakes sometime," McBride said. "I feel like we did a great job responding in the second half—it just happens sometimes."
Each time the offense stumbled, however, the defense was there to pick them up again.
The defensive unit held Lewisville to only 161 yards of total offense, and a scant 19 yards on the ground.
Senior safety Nic Johnston, who had one interception and a fumble recovery on the night, summed up the defense's night.
"Really it was the whole defensive performance," Johnston said. "I didn't have to do much, because our front seven were in their backfield the whole time."
With the win, Coppell has clinched a playoff spot. Next week's game versus Flower Mound may very well determine seeding.
In typical McBride fashion, the coach has already moved on from Friday and has begun to anticipate next Friday.
"Right now I'm glad we've clinched and I'm looking forward to Flower Mound," McBride said.
The rout of Lewisville will likely energize the Cowboys as they head into next week.
"It doesn't get better than that," senior defensive lineman Naveed Amirhekmat said. "Defensively, this is our third shutout of the season. We had to step up, make a statement to this district that we're a strong unit."