Van Winkle takes captain's reins for a second year
By John Loop
Staff Writer
Being captain of a high school varsity team is one thing. But doing that twice in as many years is a whole other story.
Add in the fact that junior third baseman and catcher Alicia Van Winkle was an underclassman when the coaches first told her she would be taking the reins of Cowgirl softball, and it all gets put in perspective.
"It is not common to have a sophomore as a captain alongside two seniors," Van Winkle said. "You wouldn't expect an underclassman to be able to handle that much responsibility, but I took pride in that and worked hard through fall and spring, and that is what helped me regain the captain role my junior year."
When coach Katherine Krug told Van Winkle in her sophomore year that she would be taking the driver's seat, she was honored.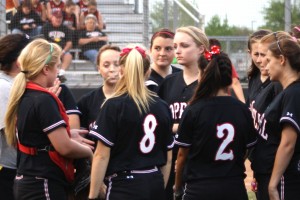 "She started off as a freshman on varsity," assistant coach Mandy Owens said. "And that's a big deal. She took that team player role as a freshman, and she knew she would have to do some extra work."
The Cowgirls softball team will need all the locker room leadership it can get this season after finishing with a 9-17 record and in sixth place out of eight teams  last season.
Sitting currently just behind rival Southlake Carroll at fifth in District 7-5A, the Cowgirls (5-7) will need to generate the offensive spark they need to push themselves into the playoffs.
"We have had a great start in district [play]," Owens said. "It depends on what team shows up on any given day. Our kids just seem to work well together."
Van Winkle has gained plenty of experience in the game of softball since she first picked up a glove at age 5.
"I have a lot of experience with softball," Van Winkle said. "Since I've been playing for more than 10 years and at the Gold level for three. All of those years have helped me mature into the player I am today."
Her experience also helps keep her teammates in line.
"Alicia is a confident, loud, straightforward, get-things-done kind of girl," sophomore outfielder Erika Zimmer said. "She has a great work ethic and she keeps us focused when we are on the field."
Both Van Winkle and Zimmer were privileged enough to be starters for the 16U Texas Glory Gold this summer when the team placed second at the Primer National Tournament in California.
"Alicia is an amazing player," Zimmer said, "When I played with her on our select team, which went to nationals in California, she had a lot of pop in her bat and was fielding cleanly."
Van Winkle calls her performance in the tournament a defining moment in her career. She led the team to a record-breaking finish.
"The ESPN California Premiere National Tournament is the biggest tournament we play in [club ball]," Van Winkle said. "My team (Glory) took second place. If I remember correctly we were the first Texas team to ever make it that far in California. It is probably the highest achievement of my softball career."
Van Winkle verbally committed to Appalachian State University in North Carolina in September of 2011.
This has had a major influence on Van Winkle's teammates, especially Zimmer.
"I look up to her a lot," Zimmer said. "She is so confident and driven. She's already committed to her dream college, which is something I'm working on."
Van Winkle is excited to lead the girls out onto the diamond for another season as their fearless captain.
"Our district play is already off to a good start," Van Winkle said. "If we can continue play solid 7-inning games, I think we have a good shot at a run in playoffs."