Going overboard for humor, romance of "Anything Goes"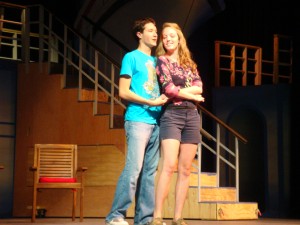 Story by Melissa Brisco
Staff Writer
Video by Kristen Hart
KCBY Director
          Coppell High School theater is taking audiences back to the 1930's with this year's musical "Anything Goes."
            "Anything Goes" is a story of love and humor and runs from Oct. 31 – Nov. 8.
            "'Anything Goes' basically circles around the love triangles of Hope, Billy, Reno and Evelyn and how they find their true love in the end," assistant director senior Rachel Humphries said.
             The play revolves around the lives several passengers their crazy antics as they are aboard the U.S.S. American a cruise ship traveling from New York to London.
The lead female, Hope Harcourt (senior Whitney Norman), is a beautiful woman from a family who before the depression was extremely rich, but now has next to nothing. Harcourt has a huge dilemma about whether she should marry Lord Evelyn Oakleigh (senior Jacob Harpel), the man who can help return her family to wealth, or the man she loves, Billy Crocker (junior Mackenzie Orr).
            Oakleigh is nerdy but extremely wealthy. Crocker is a man who is desperately in love with Harcourt, but also desperately poor.
            The other female lead is Reno Sweeny played by senior Dinah Smith.
            "I play Reno Sweeny, who is basically stripper turned evangelist," Smith said. "I can relate to her sense of humor and the fact that the majority of her close friends are guys, that's pretty much my life."
            One new addition to this year's musical is tap dancing. This will be the first CHS play to feature a large majority of the cast tap dancing. Most students in the play had never tap danced before, making it a very difficult undertaking.
            "The tap dancing was definitely the hardest part," Norman said. "Kim, our choreographer had to schedule lots of extra practices for the numbers with tap dancing. Most cast members have never tap danced before, so they are starting from scratch."
            From the complex plot to the cast of talented actors to the tap dancing numbers, this year's play is expected to be immensely enjoyable.
            "'Anything Goes' is full of fun and humor and there is something for everyone.
            "It has music that everyone knows," Humphries said. "It has classic humor and suggestive humor which really appeals to teenagers. The play is going to by hysterical."
            Things are going smoothly so far, but that is not to say that there have not already been difficulties in addition to tap dancing.
            "We are where we need to be, the kids are going an excellent job," theater department director Tabor said. "One obstacle that is presented is the ratio of girls to guys who audition. There are so many more girls who try out and do so well, but we can't cast them all because there aren't enough boys who have tried out."
            While the majority of the direction and managing of the musical is done by Tabor, it takes everyone to make the finished project spectacular.
            "The kids work really hard," Tabor said. "Rachel Humphries, the assistant director, is here 24/7 just like me. Kim Dalrymple choreographed the musical and did a great job. She's been working on it since the summer."
            Humphries plays an integral role in the musical, and this is her third musical to help out with.
            "This year and last year I have been the assistant director," Humphries said. "I help the director while offering some creative input. I maintain the rehearsal schedule, oversee T-shirt sales and ticket revenues. I basically take care of the left side and everything else so she can be creative with the show."
            This is Dalrymple's second CHS play to help choreograph. Last year she helped choreograph the fall musical "Footloose" with two other students.
            The play promises to be fun filled from beginning to end. Everyone who contributes to the musical loves what they are doing, and their pride in the show will surely show through.
            "I love the energy of the students," Tabor said. "I love watching what level they come in with at auditions and then the level they are at by the time the show opens."
            Tickets are $12 for adults and $10 for students.
            "It's a lot of fun, everyone will enjoy the music and the sets are awesome," Tabor said. "If you've never had an interest in musicals before, this one can change your mind. It's a great chance to keep theater going."