Party 4 Dollars now open in Coppell
By Rebecca Fowler
Staff Writer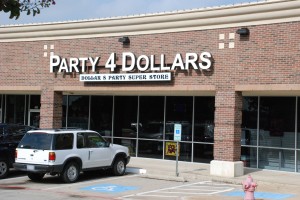 Losing the competition between Blockbuster, Red Box and Netflix, Hollywood Video has moved out of Coppell and has been replaced by a new store, Party 4 Dollars.
Though the store had been opened for business for a while, the official grand opening was Oct. 16, complete with red ribbon cutting.
Manager Tony Kurtulan made it clear that the new store hopes to be deeply involved in the Coppell community and has already hired three high school employees.  It joined the chamber of commerce and plans to cater to the requests of its customers. Because Party 4 Dollars is not a part of a franchise and is privately owned, it is able to specifically meet the needs of Coppell shoppers.
"If you give me a couple weeks, I can get any print [of plates, napkins, etc.] you want," Kurtulan said. 
Kurtulan plans to stock the store according to what the city most needs and wants, paying attention to the most popular items and the themes of party materials that people buy.
Party 4 Dollars is unique because it is a combination party and dollar store.  It sells everything from flip flops to candles, seasonal items such as Halloween costumes to wedding invitations.  The store also has a huge balloon center, with latex and Mylar balloons in different themes, including Disney and Dallas Cowboys.  Everything unmarked is $1, and all else is reasonably priced, ranging from a few cents to dollars less than the same items at Party City.
"I don't mark up," Kurtulan said.  "Everything is at least 20 to 30 percent cheaper [than Party City]."
Kurtulan does not expect much competition from nearby It's a Party, because of the acute differences in the two stores.  Whereas It's a Party is a novelty store with more high-end party materials, Party 4 Dollars is more closely related to Party City, even ordering items from the same companies that the chain store does.  Party 4 Dollars hopes to do well by offering the option of custom ordering and being conveniently located at the intersection of Denton Tap and Sandy Lake in Coppell.
With 1,000 square feet of party merchandise and hopes of enlarging this section, Party 4 Dollars is going to greatly affect Coppell bargain hunters, offering a close and customized shopping experience.
"They have really cool stuff, and most everything is $1," senior Elizabeth Shaw said.  "They have school supplies, stickers, tattoos and many other fun items.  The workers are really nice, and I had a great experience shopping there."
Coppell moms are also excited about the conveniently located party store.
"I think Coppell needed a place for party supplies at a discounted price," Coppell resident Leann Odom said.  "I will definitely shop there."
Party 4 Dollars' hours are tentatively set for 9 a.m.-7 p.m. Monday through Saturday and 12-5 p.m. on Sundays.  Hours will be extended during the holidays.