State of the Union outlines presidential plans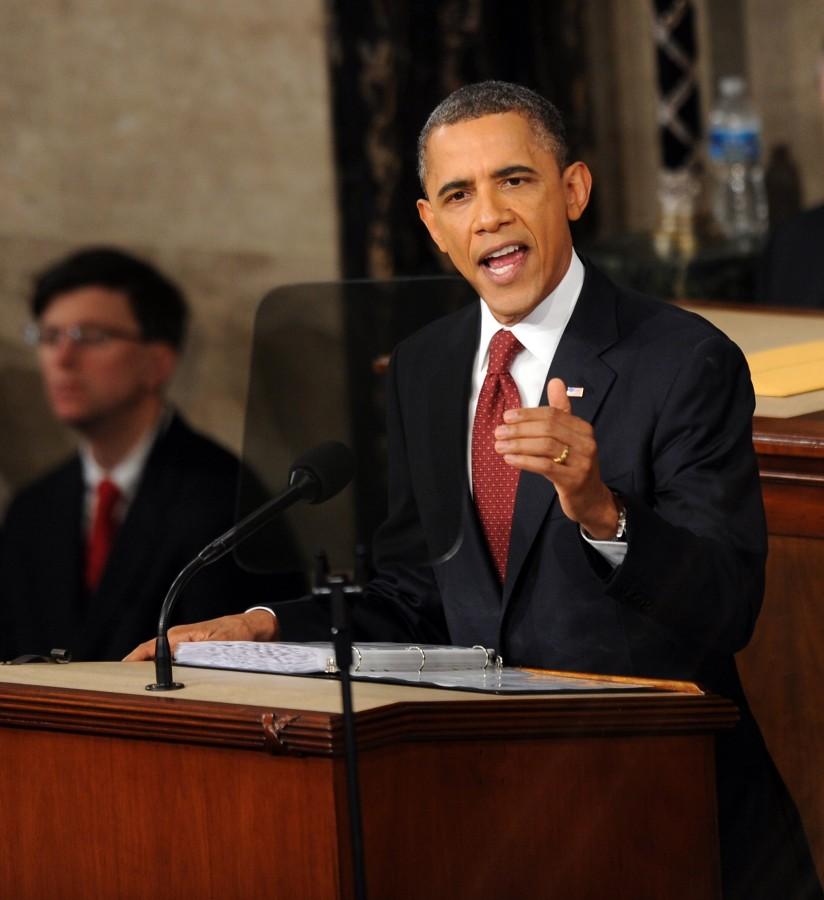 By Mary Whitfill
Features Editor
On Jan. 24 President Obama's annual State of the Union address outlined what Obama considers to be the most pressing issues for his coming year in office.
For those of you who missed out on the speech, that lasted over one hour, the following will serve as your guide to the 2012 State of the Union.
Obama discussed how to creature more jobs and rolled out a specific "economic blueprint" as his proposed plan of action for 2012.  In addition to his economic plan, the President also went over his plan for defense spending, his support of free trade and the opposition he will face from the Republican-led house of representatives.
Obama's blueprint supported points included the following tax policies (about.com):
Extending the 2010 tax cuts to everyone making less than $250,000/yr
Eliminate tax breaks for companies that moves jobs overseas
Tax breaks for companies that build in distressed areas
In addition, Obama outlined the following actions in dealing with the energy crisis (about.com):
Create 60,000 jobs a year by developing natural gas
Give tax credits for alternative energy development
Allow the development of clean energy on enough public land to power 3 million houses
The blueprint outlined steps in the areas of education, housing and regulations. Obama would like to (about.com):
Train two million of the structurally unemployed
Ban insider trading among Congressmen
Address the housing crisis by giving mortgage holders $3,000 a year with refinancing program
As far as defense, Obama mentioned his past military accomplishments fairly early on: killing Osama bin Laden and ending the Iraq war. He went on to propose $500 billion in cuts, while increasing the ability to defend against cyber threats.
President Obama also mentioned that he increased exports by his 2011 signing of free trade agreements with Colombia, South Korea and Panama. He outlined how his policies are against those of trickle-down economics and he strives to close the economic gap between the rich and the poor – demonstrated by the nation's Occupy movements.
The President acknowledged that the House of Representative, currently dominated by republican congressmen, will most likely present strong opposition to the majority of his polocies Since it is an election year, most republicans would like to see Obama defeated and their own candidate slip into the White House.
While many of his points were simply reiterations of plans he has supported in the past and some viewed it as 'more of the same,' there is no denying that the 2012 state of the union speech was one of the best speeches given by our nations leaders.
Following only, in my opinion, Lincoln's Gettysburg address, Kennedy's Cuban Missile Crisis Speech and Roosevelt's Pearl Harbor Speech, the 2012 State of the Union address was an impeccable example of public speaking and perfectly explained how big a role eloquence plays in clinching public support. The full address is available below:
Regardless of your opinion on the man, remember the speech you just heard. There is a very good chance people will still be talking about it in 50 years.