Madrigal perform annual feast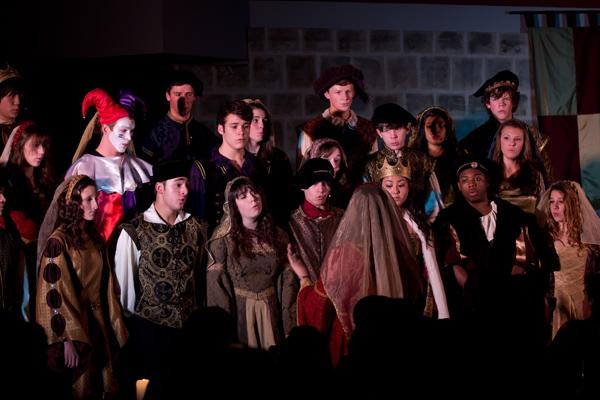 By Jay Carroll
Staff Writer
Laughter, great singing, and delicious food – sounds about right for a night at the annual Madrigals Feast.
The Coppell High School Madrigals put on its annual Madrigal Feast on Dec. 2-3 in the Large Commons at Coppell High School. This year's play was entitled "The Tragedy of Orpheus."
The night started off with another choir, Bel Canto, singing multiple songs to get the audience excited for the night. After Bel Canto's performance, Town Crier junior Michelle Pitcher announced the guests and let them into the dining area to watch the show.
"The whole cafeteria was set up so the audience could feel like they were in the Renaissance time," junior Taylor Harwood said.
Everything is authentic and very realistic; every member of the Madrigals wears renaissance dresses, and the king and queen, seniors Hanuy Kim and Alex Len wear crowns and have their own royal thrones to sit in throughout the play.
Once everyone was seated, the Madrigals processed to the stage and started to perform the play. The Town Crier came out and announced what will be happening tonight, and then the court jester came out and made a few funny jokes.
The play itself was performed very well. The guests were entertained with singing and a little bit of humor from mimes and the jester while they ate.
The dinner guests also receive a drink called wassail, which is apple cider and Red Hots and a dessert.
Once the play is over and everyone is done eating, the Madrigals put on a concert after the play. The concert is filled with songs that make you feel like you are in the Renaissance time period.
The Madrigals is the most elite choir at CHS, and they truly show it. The harmonies in this performance were pretty amazing. You almost get goose bumps at some points when they sing.
The Madrigals ended the night Silent Night, but their version is no ordinary singing of Silent Night. It is some people's favorite part of the entire performance.
"The silent night piece at the end was my favorite part of the entire night, especially the Hebrew solo," Harwood said.
They sang Silent Night in multiple different languages including, Spanish, French, Gaelic, German, Hebrew, Korean and Mandarin.
The Madrigals also think it was a successful performance, maybe even better than last year.
"The performance went really well; it was better than we expected because we worked really hard," Madrigal junior Jenna Hernandez said. "The acting was better this year. It was a step up from last year."
Head Choir director Albert Torres said basically everything was better about this year's performance than last year's performance.
"I think that our prep was different and better this year," Torres said "Also, our numbers in ticket sales went up, probably because we advertised a lot more than we did last year."
It was a very good performance, so if you missed it be sure to attend Madrigal Feast next year.