Dragons scorch Cowboys, 27-10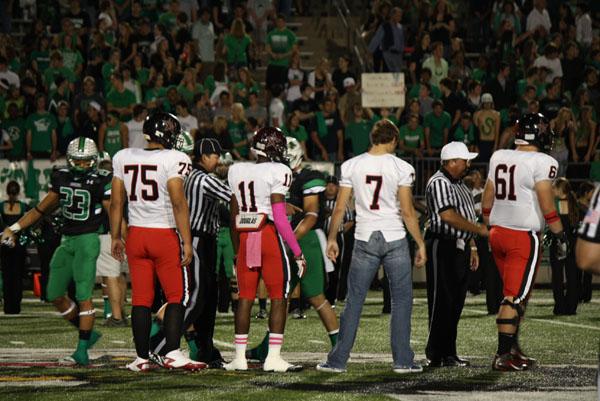 By John Loop
Staff Writer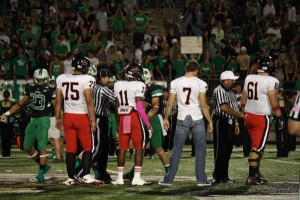 In one of Texas high school football's biggest match-ups of the season, Coppell couldn't stop Southlake from running away with a victory in the final ten minutes of the fourth quarter.
The first three and a half quarters were a defensive stalemate for both teams. The Cowboys were outscored in the second half, 14-7, on the way to a 27-10 defeat.
The first half of the game was a competitive battle. Coppell's defense held Southlake's offense, led by junior quarterback Kenny Hill, to 13 points in the first two periods of play. But the Dragons' tenacious front seven wreaked havoc on the Coppell offensive line all night long.
Hill was held without a touchdown pass for the 2nd game all season, finishing with 23 of 29 passes completed for 190 yards. But he showed that he could be a dual threat in the running game by rushing for 75 yards on 15 carries, and two touchdowns in the second half.
Coppell's offense started slow and continued with the same tempo for the majority of the game. It wasn't  until early in the fourth quarter, after the Cowboys forced and recovered a fumble, that the offense proceeded to march down the field in a short series of three running plays, two for junior running back Luke Jenner, who finished the night with 162 yards on 31 carries and a 5-yard TD run.. The score pulled Coppell within three points at 13-10.
Junior quarterback Tyler Zabojnik seemed to have shored up the mistakes from last week in the passing game, turning it around to complete 55.6% of his passes for 94 yards. Esteban Acala and Jason Lister shared the team lead in receptions with three each. Lister made an acrobatic grab on the last target, catching a tipped ball for a gain of 21 yards late in the fourth quarter.
"We ran the ball hard, we threw the ball when we had to, and next week we've got to build on that. We gotta be able to do different things to create better opportunities for the team," Zabojnik said after the game.
In the final ten minutes, Southlake scored twice when they shouldn't have. On the first touchdown, Carroll's Steven Bergmark slipped away from at least two tackles and rambled into the end zone. When the Dragons scored the second time, Hill avoided would-be tacklers flying at him from all angles and ran in, untouched, from 19 yards out. The defense played deflated over the last half a quarter, which led to a final score that did not reflect the game accurately.
Coppell drops to 5-2 on the season, and 2-2 in district play.