Varsity squad with crowd in backfield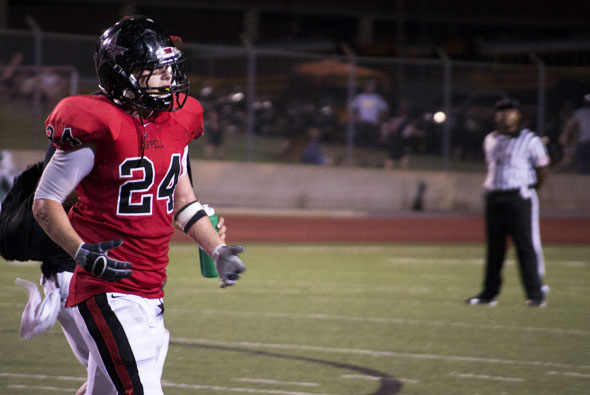 By John Loop
Staff Writer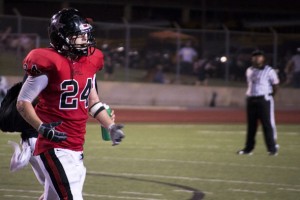 Even with the departure of heralded running back Cam McDaniel to Notre Dame, the Coppell Cowboys varsity football team is having no trouble finding a replacement to fill the shoes of a very talented player.
With McDaniel now a member of the Fighting Irish, coaches began to look for a candidate to replace him. They finally settled on junior Luke Jenner, who is a first-year varsity starter.
"I was really nervous at the start of the season, worried that I wasn't going to be able to produce. I also have some really big shoes to fill stepping into Cam's place this year," Jenner said.
Through three games, Jenner has run for 365 yards on 63 carries and four touchdowns, providing the offensive spark the Cowboys have needed to
The other two options for the position were sophomore Gavin McDaniel [Cam's brother] and senior Jared McComb, a transfer from Chanute High School in Chanute, Kan. McComb has yet to play because of a shoulder injury.
The sophomore has three carries for 45 yards as well as one reception for a 24-yard touchdown so far this season.
McDaniel looks to continue the family's football tradition. Only a sophomore, many of his peers and coaches are already creating hype that he will be as good as, or even better than, his older brother.
"It's really special to see my brother's number, to play where he played," McDaniel said. "It's a real honor."
McDaniel is eager to help an offense in tough games and unfavorable matchups.
District 7-5A features several tough rush defenses.
McComb gained 1,398 yards on 154 carries and rushed for 23 touchdowns for the Blue Comets last year.
The running game is critical to the Cowboys success, as it needs to compliment the passing game for senior quarterback Jake Larson and the Cowboys' "air strike" offense.
"The team has huge potential," Jenner said. "We have a lot of great pieces that the coaches can put to good use, to give us a great chance to be a contender."
The coaches are not committing to just one running back.
"The situation in the backfield depends on how well Luke keeps doing, how far these other guys keep coming along, staying healthy, and on everybody's production," head coach Joe McBride said.