McBride honored by Dallas Cowboys
Mary Whitfill
Features Editor
Coppell Cowboys head football coach Joe McBride was recently named Texas High School Football Coach of the year by the Dallas Cowboys. With the title, McBride was the recipient a $2000 grant from Gene and Jerry Jones Family Charities for the Coppell High School football program. His honor sent a surge of pride through the city, topping off a truly fantastic football season.
"The kids got me there," McBride said. "It is an honor that I was named, but it was a collective effort."
McBride was presented with the honor at the January 4th Coppell vs. Southlake basketball game, being surprised at halftime by two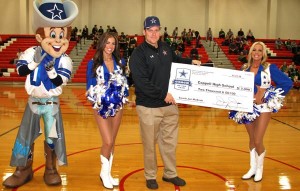 Dallas Cowboys Cheerleaders and the Cowboy mascot, Rowdy. In addition to this honor, McBride was also named Class 5A Coach of the Year by ESPN Dallas in late December.
"When something like this happens, it means I have led well," McBride said. "I don't do it by myself. The players committed and had a great year and my assistant coach staff has done a great job as well."
Leading the Cowboys in a record setting year, McBride helped the Coppell football team reach a record of 13-1, making it to the fourth round of the state playoffs for the first time.
"The playoffs were a huge thing for this school," Coppell High School principal Brad Hunt said. "For a game to be broadcasted like that is really amazing thing. It brought a lot of community spirit and recognition to the team."
McBride joined the Coppell Cowboy family in 2009, making this his second full season as head football coach. The team is said to have reached its full potential under the leadership of its newest coach with its offensive play going from good to great. McBride managed to transform a running offensive group into a top passing team, resulting in some of the best games and highest scores the team has ever seen. In addition to their major change in offensive strategy, the Coppell defense heightened their game, giving up less than 10 points per game in the regular season, leading to their regular season undefeated title.
"I have great coaches, great players and my administration gives me the resources it takes to be great," McBride said.
In addition to the improvement of their season records, many believe that McBride has brought a great example of character into the lives of the young athletes.
"Coach McBride has influenced the school in a very positive way,' Hunt said. "With his leadership and his pride, he has brought a lot of credibility to our program. He is also a man of integrity, and when you have that as a model, it breeds good sportsman ship. We want to have good athletes but we also want good young men."
Despite the fact that the team has changed hands a lot in recent years, with three football coaches in six seasons, McBride seems to have begun to make an influence on Coppell football that will not soon disappear.
"It is nice to have consistency in a coach, Hunt said. " I'm looking forward to having him here, he has exceeded expectations and I have been impressed with everything about him. I think great things will continue to happen for the Coppell football program with Coach McBride."