'The Eagle' Barely Gets off the Ground
Wren Culp
Staff Writer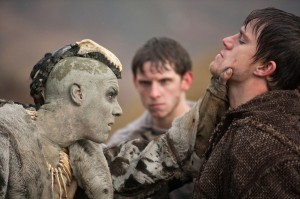 No one has risen to stardom quite like Channing Tatum. Films such as She's The Man and Step Up launched him into the spotlight starting in 2006. But can the growing star keep his streak of successful movies going with his new film The Eagle?
The Eagle, an action-adventure film set during antiquity when the Roman Empire included Britain brings us the story of Marcus Aquila (Tatum), a roman soldier determined to reclaim his family's name. As son of Flavius Aquila, Commander of the Ninth Legion who in an earlier battle lost 5,000 men and the Golden Eagle (the emblem of Roman honor that the army had carried into battle), Marcus sets out with his new slave Esca (Jamie Bell) to find the eagle and return it to Rome.
Tatum and Bell deliver solid performances as the two duke it out in their new friendship. Something the two do really well is together is show the ins and outs of their relationship. It's a dynamic director Kevin MacDonald is a master at, and the presentation in The Eagle is no exception to that.
When you get a movie that has a bunch of people running around with swords, it's always nice to have a guy who looks like he was actually built to use one; Tatum definitely looks like he hit the gym for this role. However, masculinity, Roman soldiers and a lot of fighting does not make a movie worth your hard earned dollar. When it comes to substance and plot, The Eagle falls slightly short.
When I say slightly short, I don't mean it has a down-right awful plot. I mean that, in the case of this film, the plot is a lot simpler than you would think. Basically Tatum and his army go from point A to point B, grab what they came for and go back to point A.
I will say what impressed me about the movie is the attention to detail. With a two year background in the Latin language and Roman history, I know quite a bit about what the characters were talking about throughout the whole film. The way people dressed, the way they talked and even the way they fought the battles were historically accurate.
Academy Award Winner Kevin MacDonald (State of Play, The Last King of Scotland) returns to the director's chair for the first time since 2009. I felt as if the direction in the film was a bit vague do to the plot being a bit vague.
Overall, the film is a fun ride. With a solid performance from Tatum and Bell as well as an easy story to follow, The Eagle is definitely a Friday night movie to see with friends.
On February 2nd, I got to sit down with Channing Tatum and talk with him about the film. Check out the interview below.