CHS Potter fans pick wandwork over schoolwork
Rebecca Neumann
Entertainment Editor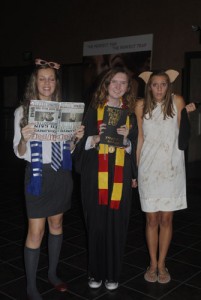 On Nov. 19, a more than usual amount of students were caught napping in class, a phenomena caused by Potter-induced sleep deprivation.
There is a good chance that you were one of the many who attended the midnight premiere of Harry Potter and the Deathly Hallows Part 1 the night before at nearby theaters like Cinemark Vista Ridge or AMC Grapevine. Hundreds of fans some decked out like wizards, some sporting Muggle (non-magical persons) clothing, lined up for hours and waited for the premiere of the first chapter of the final movie based off the epic series by J.K Rowling.
Even though most fans arrived between 8 and 9 p.m., lines were already forming by 7 o'clock. AMC Grapevine let movie-goers in the designated theaters around 8 p.m. so they could lounge around comfortably for four hours before the movie started. It was a very nerdy affair: there were magical duels. The more dedicated people discussed their fake wands. Some bought them from Toys 'R Us or Harry Potter World in Orlando, while others carved them from wood.
Junior Jonathon Zuniga sported a clay wand, but his dedication did not stop there.
"I don't have too much homework," Zuniga said. "But I'll still probably have to stay up a couple of hours more after I get home from the premiere."
He is not the only one putting Potter before school, but fellow junior Hilton Hardy prepared in advance for the next day's work, evening taking a nap after school to catch some extra hours of sleep.
"I'm in IB and my IOP is tomorrow," Hardy said. "[The IOP speech] is the equivalent of a midterm grade for juniors and while it's probably a horrible idea [to stay up late the night before], I've been preparing a week in advance, I have my notes here to practice, I have my outline, I've already run through it five times earlier this week and I'm outlining it again right now. Harry Potter is worth it."
Later Zuniga regretted not having dressed up more for the premiere. While others were fairly authentic-looking in classic wizards' robes, Zuniga wore only his Gryffindor colored striped scarf.
"A lot of people went all out," he said. "I wish I'd been more creative."
Junior Justin McCracken got ready in a different way for the movie by revisiting the past works.
"I wanted to be prepared for the movie event," he said. "So I reread all of the books and re-watched all of the movies."
The movie itself was only a small part of the nights' festivities, though it was certainly the most important. Being a midnight premiere, the audience had a hyper rowdiness that could be expected from the age group that attended, which was mainly high school and college age. There was a lot of applause at critical scenes and several people screamed when something popped up on screen and scared them.
After the movie, everyone drifted out towards their cars like zombies to brains: slow, but with purpose. Many gave looks of pity to the teen dressed as the house elf Dobby, who wore only a pillow case and socks and had to walk through the crisp, 40 degree weather.
The next day there was little anyone could do for the Potter-hangover. An air of lethargy hung over the classrooms. The added 'day-before-the-holiday' effect made for a pretty slow day at CHS. But even after a long day of school, most of the sleep-deprived students still echoed Hardy's words: It was worth it.