By Mary Whitfill
Features Editor
The elections of November 2010 had the potential to bring waves of change throughout the United States with many important issues invading polls across the nation. Tuesday night marked the beginning of a new controlling power on Capitol Hill, but also proved that not everybody is ready to see such large change.
Elections were held for 37 Senate seats and all 435 House of Representative seats that represent the 50 U.S. states. The only position in the house that was not up for election was that of the Resident Commissioner of Puerto Rico who serves a four-year term, as opposed to the other representatives who must face re-election every two years.
The results of the elections made for a major shift in power as Republican Party candidates took control of the House of Representatives. With the Democrats facing their largest seat loss since 1938, Republicans now hold 239 seats, while the Democrats hold 185.
Despite the usual trend that exists in US Senate power shift, Democrats hold 51 seats in the Senate, maintaining a majority.  Very rarely does a party hold both Senate power and the presidential seat.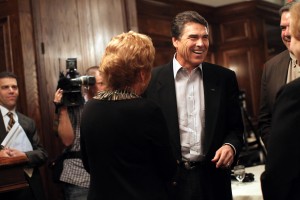 Representing the Republican Party in Texas, Rick Perry was re-elected for a third term, making him the longest serving governor in Texas history. Ending former mayor of Houston Bill White's winning streak, Perry maintains his undefeated record in all political races. While Texas Democrats saw White as their best candidate since Ann Richards, Texas stuck to tradition and the Republican candidate showed a consistent lead throughout the race.
Perry is considered a potential 2012 presidential candidate, but has denied any aspirations to fill the role. The man has gained national attention through his public criticism of President Obama and the publishing of his book Fed Up! Our Fight to Save America from Washington.
The election of Perry could lead to major Republican change in Congress. It has the potential to give the Republicans a big boost after the 2010 Census and Texas is expected to gain four seats in Congress in upcoming years.
Across the country, proposition 19 failed in California; announced this morning when final tallies were counted. Only Bay Area residents, not amounting to a majority of the voters, supported the proposition, which would have legalized the use of recreational marijuana with government control. The state hoped to raise state revenue by setting their own taxes on the drug, leading to legalization across America once the federal government realized the amount of money it could bring in. This will not be the end of the Proposition 19 fight both in California and throughout the nation.