Under the starry night sky, students and families bundle under their comfy blankets as the autumn breeze rustles around them. The scent of popcorn and hot chocolate fills the air, creating a cozy atmosphere for the movie night. 
On Saturday, Coppell High School Ninth Grade Campus hosted its fall social family movie night in Lesley Field.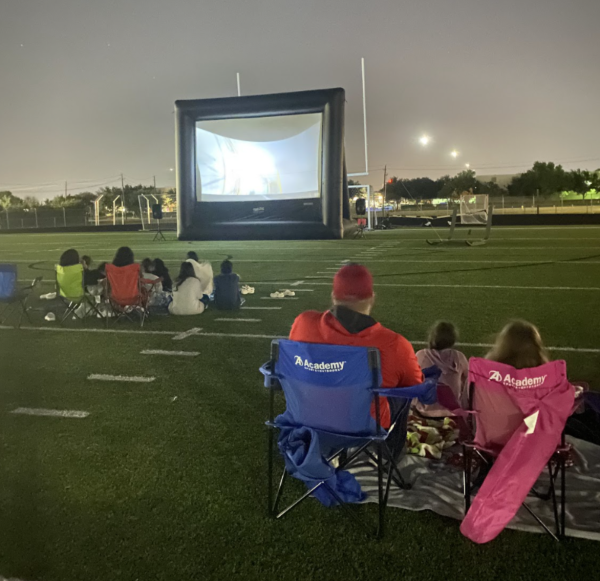 With their pajama pants, lawn chairs and soft blankets, the families, students and staff of CHS9 settle in to watch the Marvel movie Spider-Man: Into The Spiderverse while grabbing their freshly popped popcorn, hot chocolate and various candies.
To create a unique and memorable experience, CHS9 administrators had to use an out-of-box approach. 
"We were trying to come up with something that wasn't the same as anybody else," CHS9 Principal Dr. Cody Koontz said.
Contemplating a wide array of ideas, the CHS9 administration considered many options for the fall event. 
"We had kicked around the idea of a fall carnival, but there are a lot of schools that do that," Dr. Koontz said. "We didn't want to go into the realm, so we were thinking about something after Halloween before the weather got cold."
After thorough contemplation, the administration settled on one idea: An annual fall movie night. The idea allows an innovative approach while catering to the temperatures of the fall season.
Instead of focusing on one central audience, the CHS9 fall social movie night had free admission, inviting all of the CHS9 community. 
"We pitched as a CHS9 family movie night since CHS9 family is kind of our thing," Dr. Koontz said. "We wanted to invite our families of students and staff so that it wasn't just a student event, but more of a whole community thing." 
Many attendees, including CHS9 freshman Anjana Pericherla, appreciated the inclusivity of the event. 
"A few of the other events at CHS9 are for different target audiences," Pericherla said. "Most of them are only for students or only for teachers, but this event is for everyone," Pericherla said. 
Joy filled the air as families immersed themselves in the animated film while sharing enjoyable experiences. The casual, low-stress atmosphere created a setting for families to bond over the film. 
"It's an opportunity for both parents, children, and anyone from CHS9 to come together and have a nice, fun, relaxed evening," CHS9 parent Bertha Moehlis said.
CHS9 plans to establish fall family movie night as an annual tradition to foster closer connections within the local community.
Follow @CHSCampusNews on X