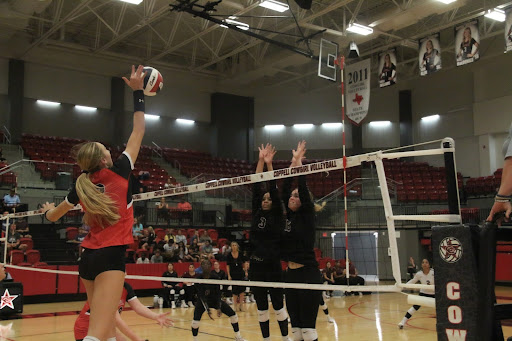 The slam of the ball echoes as Coppell senior setter Alena Truong hits a cut shot, taking the second set. The Coppell volleyball team's offense worked fast and before Lewsville knew it, the Cowgirls walked away with a sweep. 
After four consecutive losses, the Cowgirls came back with a slam, winning against Lewisville in three consecutive sets; 25-16, 25-19, and 25-15 on Tuesday at CHS Arena.
Working on their offense this season, the Cowgirls focused on their serves and spikes during the game and the results were clear. 
Throughout the first set, Coppell senior opposite hitter Mira Klem hit powerful spikes, giving the Cowgirls an eight-point lead that lasted for the majority of the set. Klem finished off the set with a cross-court hit, her momentum carrying over to the team for the rest of the game. 
"We practiced a lot, worked on aim and accuracy and it paid off, our serves were great," Klem said. 
Starting with a service ace from Coppell junior setter Carol Ufret, the second set seemed to be in favor of the Cowgirls. However, as the Farmers became more accurate in reading Klem's spikes, the teams battled throughout the set to reach 25 points first.
The Farmers pulled to within 13-12 against the Cowgirls and towards the middle of the set, both teams gave it their all to take the lead.   
"We did well on offense for the second and third sets, as a team we had a positive mindset that drove us," Klem said.
Adapting, Klem began alternating between dinks and cross-court shots, leaving fists hitting the floor to dig the ball. This offense move made Lewisville's defense scatter and gave room for Truoung and senior outside hitter Daki Kahungu's powerful spikes, scoring till match point. 
"Lewisville did a good job of keeping the ball in the air." Coppell coach Robyn Ross said. "We have been competing with very competitive schools so far, so this was a great boost in confidence for the girls. "
The Cowgirls' confidence carried over into the third set, their digs sending the ball flying higher and their spikes hitting the floor through the hand of the Farmers' blockers. As more of Lewisville's serves and spikes went out-of-bounds, the Cowgirls lead widened from 10-9 to 20-12. 
As the score reached 24-15, Truong leapt into the air and spiked the ball over the net. The Farmers attempted to get a touch on the ball, but were unable to send the ball back over. With the shank into the bleachers, the Cowgirls won the final point of the night and celebrated their first win of the season. 
"I felt great scoring the last two set points." Truong said  "We got on a lot of runs and our serving was aggressive both in offensive and defensive."
Coppell plays Flower Mound Marcus on Friday for elementary school night at CHS Arena.
"I look forward to playing against a team that will challenge us more." Truong said "Marcus has always been pretty strong so I'm excited to play against them especially as we progress as a team."