Breaking down college recruiting
Coppell athletes looking to play on next level explore various options
It is paramount for athletes to correctly navigate the college recruitment process if they wish to continue their sport at a collegiate level. However, many high school athletes lack the advantage of family members who have gone through this process and find themselves learning as they go.
"A lot of basketball players have older siblings who have gone [through the recruiting process] but I had nobody who had gone through the process for basketball," said Coppell senior small forward Ryan Agarwal, a Stanford commit. "I was clueless, to be honest, but I had people I knew [who helped]."
Many athletes rely on relationships with their coaches to guide them through college recruiting, including Agarwal, who says 3D Empire Coach Shawn Ward and Coppell basketball coach Clint Schnell helped him navigate this process.
"The relationships that a high school coach has with college coaches is paramount," Coppell athletic director Kit Pehl said. "It's important for a high school coach, for the sake of recruiting, to have relationships with [Division II] caliber coaches, because you're going to have more players that are going to need your help finding a place to play at that level than you are at the [Division I] level. If a coach doesn't watch college practices and doesn't have any contact with college coaches, then a kid is more on their own. It's not impossible, but everything you have working in your favor that can help you is best."
According to Coppell football coach Michael Dewitt, these relationships can further impact athletes as coaches vouch for their players.
"As a high school coach, you want to have a great relationship with college coaches, and then those college coaches want to build a positive relationship with the high school coach," Dewitt said. "If a college coach trusts a high school coach, then it carries a lot of weight when a high school coach calls that college coach and vouches for a kid or says, 'Hey, we looked at this kid' and they can rely on the high school coach for things that they can't see [by watching film, like a players] work ethics, character, how he conducts himself in the classroom and things like that. There's a lot of times [college coaches are] not allowed to contact athletes so they'll use the coach as a go-between to communicate things with the players."
It is important to note that recruiting varies between sports. For example, football players rely more heavily on their high school coaches than that of athletes in other sports as there are no club leagues.
"The biggest difference [for football] is recruiting goes through the high school coach," Dewitt said. "A lot of your club sports, the high school coaches are really taken out of [the equation]. Especially volleyball, basketball, and baseball to some extent, but from a football standpoint, colleges rely on high school coaches a lot to communicate with players to get film, transcripts, things like that."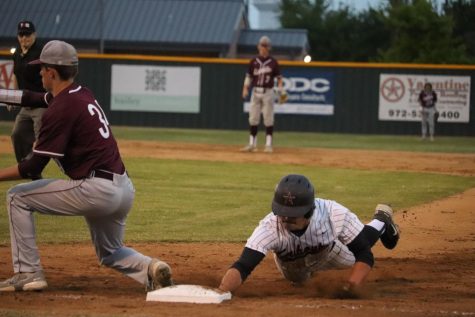 College coaches cannot begin recruiting athletes until June 15 going into their junior year.
"I started emailing colleges I thought I would be interested in based on the soccer level they were at in the major I want to go into in my sophomore year, we went on a bunch of showcases where you would email the coach and then they'd come out to watch you play," said Coppell senior midfielder Bailey Peek, a Rice commit. "But they couldn't respond at all [until June 15]. They could read the email but they couldn't respond, if they did respond, it would be a generic response. They couldn't give you a specific or personalized response until June 15. It's really stressful because you want to play your best and you want to show off. You want to be on the field and show how you play your game [but you wouldn't know if the coaches were coming or not]."
The critical period for college recruiting generally occurs the summer before an athlete's junior year to the summer before their senior year. During this time, the majority of athletes begin looking into colleges and gaining offers. However, there are exceptions.
"There are kids that are injured all their junior year and need the [next] summer just to get healthy and have a breakout senior year," Pehl said. "There could be somebody that slipped through the cracks for most recruiters and suddenly is a viable entity that's on the radar of recruiters. But traditionally, if you're not capable of being a collegiate player as a junior, you're not going to be as a senior."
In order to capitalize off the recruiting process, it is important for athletes to know what type of programs they want to compete in. Athletes can compete in either the National Collegiate Athletics Association or the National Association of Intercollegiate Athletics. 
"The most important thing is identifying a level that you are capable of playing at," Pehl said. "If you want to play college football, just because you can't play in the Southeastern Conference doesn't mean you can't play college football. Not every kid understands that – they think playing college athletics is what they see on TV."
The main difference between the NCAA and NAIA is when they are allowed to recruit. In the NCAA, schools have evaluation periods and dead periods, certain times of the year when they are allowed to recruit, while NAIA schools are allowed to recruit year round.
"A college [in the NCAA] can't always contact athletes; some of those things are designed for the recruiting process not to wear down a kid and to maintain some kind of balance," Pehl said. "More of the rules that exist are those of recruiting within institutions. It's difficult to prove when rules are broken."
When NCAA rules are broken, it is often hard to find solid evidence. Oftentimes an inside source or monetary paper trail is needed."
"In this day and age, so much of that's tied to shoes and shoe companies," Pehl said. "The school and the institution themselves are not the ones paying the family or paying the kid, they have a booster do it or have the shoe company do it. It's a little harder than it used to be to identify and trace back, it usually takes inside information."
The NCAA is composed of three divisions: Division I, Division II and Division III. D1 and D2 schools offer scholarships while D3 do not. D1 schools generally have more sports and larger football and basketball teams while D2 and NAIA schools generally have smaller football/basketball teams and less sports. D3 schools are generally smaller and don't offer scholarships to athletes. It is important to note that the division a school competes in does not directly correlate to the level of expertise within their sports programs; for example, a D2 school could have a better team than a D1 school.
In order to compete in collegiate athletics, athletes must first adhere to Clearinghouse requirements. These requirements vary between divisions, including that of one's GPA, number of completed core classes and more.
"It's very possible for an athlete to not be eligible for their freshman year of college, in terms of competing from the Clearinghouse perspective, because you didn't take the right classes," Pehl said. "I think the majority, if not all, of the degree tracks [that Coppell has] allow you to be NCAA ready. The single biggest thing, though, is doing the research. Most people don't do their research until they have a college offer and then all of a sudden they're trying to figure it out at the last minute."
Academics are looked at both by the Clearinghouse and individual universities. For example, Ivy League schools can't accept all five-star athletes as many won't be accepted into the school off of academic merits.
"Very few [football players] are going to go to a power five school," Dewitt said. "There's a lot of places that you can go to college, and you can get a lot of it paid for with your academics. Some of those places offer scholarships. There may be high academic places where you need really good grades and test scores [to get in]. Apart from playing well in the field and being a good player, you've got to take care of your business in the classroom."
After identifying the type of programs that fit best, athletes start reaching out to colleges within that division.
"The first step you have to take is having people reach out to coaches for you and knowing the right people that can get you in contact with coaches," Agarwal said. "Then, once they get in contact with you, the next step is building a good relationship with coaches. They'll come out to watch you play or if they see you've been playing [well] you'll eventually gain an offer or scholarship to play for a school."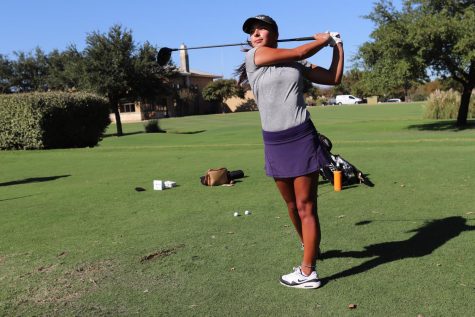 Building relationships with potential coaches is essential to gain offers. Partaking on an official college visit helps build relationships and trust; however, athletes are only allowed five total official visits for D1 schools and one official visit per school. In D2 and D3, recruits can take one official visit for an unlimited number of schools. 
"My recruitment process was pretty short," Bailey said. "I mainly talked to Rice head coach Brian Lee. We talked like at the beginning maybe once a week on the phone. I went down to Houston just to go visit the campus by myself, because official visits were closed at that time due to COVID. I've been communicating with Rice coaches more recently because I planned my official visit for Nov. 8 [to get everything organized before I sign]."
When speaking with colleges about potential offers, Pehl thinks it is important to be honest.
"Kids aren't very good at telling adults 'no'," Pehl said. "If a school is calling and they're interested, and you're like, 'oh, yeah, I'm interested,' as soon as you say that, you've opened the floodgates. [Athletes need to] be honest [and ask questions]. If you know a lot about that school, and you don't have any interest, but you're just afraid to tell them, then it's just one more school you're going to have to deal with in terms of ignoring their calls."
Pehl thinks athletes should see how their game style fits into a particular school and whether their talents would be well-utilized while researching schools.
"Sometimes researching places that have a shortage in the position you play is a smart thing to do," Pehl said. "You don't want to go somewhere where there's a plethora of kids that play the position you play. So some of it is research driven on your own part, but [a school] needs to be a match for you too – like your major. There's all these variables, but if just playing is your intent, if you're a competitive factor in a 6A school, there's probably somewhere in the country you can play."
College recruiting can turn into a domino effect as recruiters talk with each other and learn of new players to scout, finding more high caliber athletes through this process. This can lead to added pressure for high-caliber athletes as more and more coaches reach out to them as the recruitment process wears on.
"The closer you get to committing, the more coaches are calling you, the more they're pressuring you to commit to them," Agarwal said. "The week before I committed, I was on a Zoom call at least four to five times a day for hours. It is a lot of time and gets stressful, but it's a good stress to have."
However, even the first day of recruiting can be overwhelming.
"[Bailey's] club had a program where a former college coach would walk through the calls with her," Bailey's mom Rhonda Peek said. "We did a couple of fake calls and had a book with the top 30 schools and questions written for each school so that if she got a call, she would have a book to look at questions for a school and you know something about a school in front of her and we helped her get her list of schools in the beginning. Because we had a specific day (June 15) when the colleges could start calling Bailey we were prepared. She did all the calls on her own and talked to all of them individually. She took charge and talked to maybe 10 schools that first day."
Once an athlete decides where they want to go and verbally commits, it stops the rush of college contact.
"Neither party is obligated with a verbal commitment, but it essentially tells everybody else 'I'm going here, leave me alone,'" Pehl said. "It stops the process temporarily, unless they've opened the process back up. In fairness, if colleges are allowing commitments and they renege on a commitment, that wouldn't go over well in the recruiting community and other schools would use that against them. But kids change commitments all the time as it's not binding [until an athlete has signed]."
An athlete should be confident in their decision both while signing with a college and in the following years as they may be required to sit for a year,or not be allowed to play, after transferring schools.
"The transfer market is so real right now that it actually hurts high school recruiting," Pehl said. "D2 schools love D1 fall-downs. There's a lot of D2 schools, depending on the sport, that tend to recruit less high school kids these days and are more interested in D1 fall-downs, which makes it even harder on a high school kid to get a scholarship or get an opportunity to play."
When transferring from D1 to D1, athletes are required to sit for a year before they can play for their new D1 school, whereas D1 fall-downs can play immediately after transferring.
"You have to be really sure you want to transfer," Pehl said. "If you didn't have to sit for a year, transfers would be even more frequent. It really makes you stop and think, and it also makes you stop and consider your original choice."
Recruitment is based on a recruiting budget, meaning that some schools – with smaller budgets – will be limited to the amount of recruiting they can partake in. In these cases, recruiting is often based on an athlete's interest in the school. If an athlete wants to compete at a large D1 school, they may have more opportunities than athletes committing to smaller schools with smaller recruiting budgets. In other cases, such as larger schools, coaches will fly to scout athletes in-person.
Athletes face additional pressure to perform at high standards throughout the recruiting process.
"Having to deal with hearing a coach saying, 'oh, yeah, I've seen this game' or going into a game knowing a D1 coach is going to be watching you is pretty stressful just because of the fact that you want to prove to them that you can play basketball," Agarwal said. "Committing doesn't necessarily make you just be like, 'oh, I can chill out now.' You've gotta know you're also proving you belong to that school."
According to Pehl, many athletes have the opportunity to play collegiate athletics if they open themselves up to lower division schools.
"Unfortunately, all of our athletic careers end somewhere, and for some people it's in high school," Pehl said. "But in terms of finding a place, if you're a decent player, and where you go doesn't matter to you and you just want to play, there's places to play. It's just that Coppell kids tend to be a little more choosy and don't necessarily want to go to the 'middle of nowhere university.'"
Follow Torie (@torielpeck) and @SidekickSports on Twitter.