GOAL! Vegas Cup winner Peek scores big with commitment to Rice
As Coppell junior midfielder Bailey Peek sat at dinner, the realization came to her. Her unofficial visit to Rice University would conclude with an offer to play Division I soccer for her dream school.
The nervousness and shock set in through the remainder of dinner, as she continued listening to her mother, Rhonda Peek, speak with D'Feeters Kicks Soccer Club college adviser Daniel Dobson. When Bailey returned to her room at Hotel Intercontinental in Houston, she noticed that she had a missed call and voicemail from Rice coach Brian Lee. Visibly shaking, Bailey called Lee back to discuss the parameters of her offer with her parents. 
Overrun with emotion, Bailey verbally committed to Rice at 8:30 p.m on July 10.
"It was a long phone call, and my brain was overloaded the whole time, and I just couldn't think – it just happened," Bailey said. "I was so confused, and then I was committed."
While Bailey originally planned to wait until at least her junior year before committing, the uncertainty surrounding her 2020-21 season prompted Bailey to begin formal requirement talks with college coaches.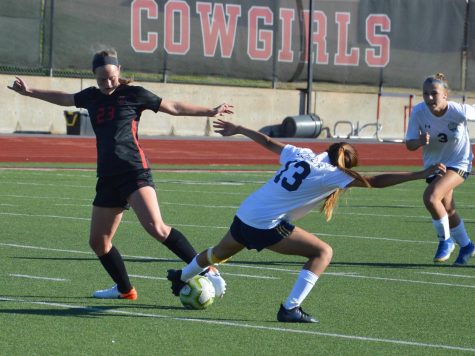 Prior to her commitment to Rice, Bailey had only spoken to Utah, Tennessee, Texas Tech, Louisiana Tech and Illinois and unofficially visited Rice.
Bailey fell in love with Rice during her visit, noting the campus's widely renowned architecture, Houston location and the way the city skyline could be seen from the soccer fields. The prestige of Rice's engineering program was the deciding factor in her commitment. Bailey, an aspiring chemical engineer, originally wanted to major in bioengineering but was later swayed away after personal distaste with the health science curriculum.
Having grown up on the fields of Andy Brown Park in Coppell since 4 years old, originally playing with the Purple Angels of the Coppell Youth Soccer Association, Bailey later began playing competitively with former Coppell girls soccer coach Chris Stricker on the Solar Crushers at Solar Soccer Club.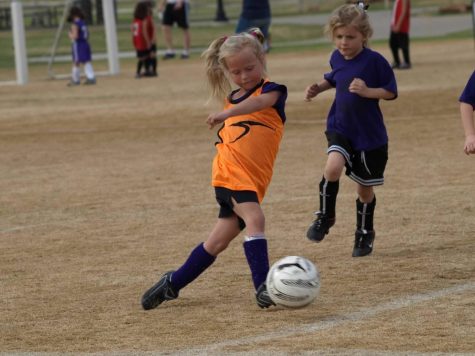 Stricker later gave up coaching the Solar Crushers while Bailey was in third grade. As a result, Bailey bounced from club to club in the Lake Highlands Division I League and Junior Development League before landing at her current Elite Clubs National League team, D'feeters – which she now captains – in eighth grade.
"[Bailey] was always a great athlete, she always had a great work ethic, and whenever you have a great athlete who has the work ethic, you know they're something special," Stricker said.
Though having played as a forward early on – scoring goals for fun – her speed, athleticism and tenacious mentality moved her into a more defensive role as she was able to chase down the opposition.
"Bailey is a really tough kid, she's not afraid to tackle hard, and she's just faster [than her competition]," Stricker said. "There are other goal scorers too [but] it's harder to find a really good, athletic center back or right back than it is to find a goal scorer."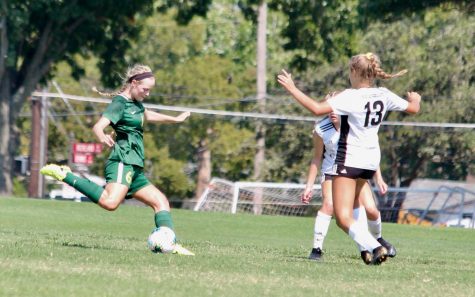 Bailey's physical dominance on her opposition coupled with her leadership skills and talent were put on display during the 2019 Vegas Cup tournament, with her playing a crucial role in leading her team through the grueling bracket to win the tournament. 
"My team, D'feeters, went to the Vegas Cup one or two times before but we lost in the [quarterfinals] on penalty kicks both times so it was really exciting winning [the final], we won in overtime." Bailey said.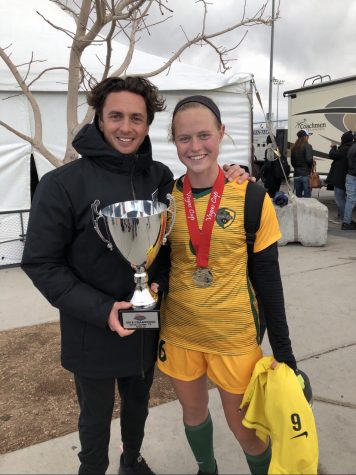 Over the years, Bailey has always been able to rely on her parents for guidance, whether it be reminders to make sure her grades were up-to-par or helping her choose the best college path. Ensuring Bailey's care for school equaled the amount of burning passion she had for soccer was always one of their priorities.
Previously conflicted on whether to focus on soccer or education in college, Bailey's decision came down to what she wanted for her own future rather than what people wanted her to pursue.
"In ninth grade, we knew she could play [Division I] soccer if she wanted to," Mrs. Peek said. "We had to let her decide if she really wanted to play soccer."
According to Mrs. Peek, Bailey's decision to commit was largely her own. With her happiness as their priority, allowing her to choose what she would do in the future was important to the family. 
"I am excited for the next steps in [Bailey's] life, I think [she is] going to do excellent, and I am proud of [her] success," Bailey's father Robbie Peek said.
Follow Meer (@meer_mahfuz) and @SidekickSports on Twitter.