The future of local education
District proposes Virtual Academy as option for 2021-22 school year
When Coppell High School sophomores searched for their testing rooms on May 8 for English II STAAR testing, many of them were navigating the building for the first time. It is yet another effect of the coronavirus pandemic in Coppell ISD – that a school students have officially attended for almost a year is essentially unrecognizable. 
"I would be standing at the bottom of the stairs when they finished and they would come up to me and say 'Ms. Springer, which way do we go to get out?'" CHS Principal Laura Springer said. "We're about to rebuild this whole place next year and we don't have the seniors as role models to build off of in those organizations and clubs because they haven't been here. We're all a little nervous."
Part of CHS' 'rebuilding' process is the summer planning of possible options for next year's students, while accommodating course registration changes. One of these options is Coppell ISD's Virtual Academy, a fully-virtual option for students to commit to for the entirety of the 2021-22 school year. 
However, the district can only move forward with the Virtual Academy if Bill 1468, which grants funding to districts for the attendance of virtual students, passes in the Texas Legislature. This bill is one of multiple that CISD Board Place 6 Tracy Fisher is advocating for during her visits to Austin prior to the end of the legislative session on May 30. 
"
We're about to rebuild this whole place next year and we don't have the seniors as role models to build off of in those organizations and clubs because they haven't been here.
— Laura Springer
"It won't be for everybody; it'll be for the folks that are motivated to be taught that way," Fisher said. "I hope that public schools are supported in the legislature. We won't know for a couple months about exactly what will happen next year."
The option is planned for grades 3-12, with the stipulations that students would be required to attend live classes and must reside in CISD boundaries, while participating in all coursework from this residence. Students who wish to participate must also designate an at-home learning coach who is committed to approximately 20 hours a week to support their student's educational trajectory for the school year. Their responsibilities will vary depending on the grade level of the student. 
Participation in the Virtual Academy would mean a student is unenrolled from their home campus. This means that students will not be ranked as CHS students or graduate from CHS. Additionally, Virtual Academy students cannot participate in campus programs such as theater, band, KCBY-TV and Lariettes. 
"The part that stuck with me was that it would be a different school, so I was curious about that and wanted to see what that would look like," CHS junior Nainika Putti said. "Something that I didn't really like was that if you were in extracurricular activities like choir and band, you wouldn't be able to participate in them anymore. You won't be able to have that extra activity in your life. I don't know how that'll work out for credits as well."
While Putti is still evaluating her schedule, she is aware that she would have to give up choir if she opts for the Virtual Academy. Putti hopes that next year, more teachers and the district itself will take into account students' personal situations as they readjust to school structure, a fact that Springer is also cognizant of.  
"Something that's a big worry for us is if you take the average student, not an upper-level student, that is used to studying and used to the routine of knowing they need to get their work done, we have been through almost a year and a half of those kids not having structure," Springer said. "At all. The biggest thing will be teaching kids how to once again fit into a structured system. How to go to bed at night so you don't sleep through classes in the morning. How to come to school and study and converse with other people when you've not been talking to anybody."
Another major worry that Springer has with the Virtual Academy is being unable to aid students with difficult home situations, which is usually a part of her day on campus. 
"Through a screen, you can't see that they're hurt," Springer said. "You can't see the ones that have emotionally been abused. If you come into my room, I can see it right away. I can see the fear in your eyes, the hurt in your face. I can see when we start talking about certain topics, that you get anxious. I see kids coming down the hallway and I stop them and say 'can we talk for a second? I just see on your face that something's not right', and they start crying. I need that because it's how I find out where kids are broken and what we can do to help them."
CHS environmental science teacher Maxx Lazos has found that establishing those relationships is crucial. He thinks that these relationships form the foundation for students' interest and involvement in the class, whether they are online or in-person.
"With kids coming back, it could be a great time for a fresh start and for teachers to buy into building relationships," Lazos said. "I've found for the most part, whether it's AP, on-level or anything in between, if you get the kids to buy in and you get them to see how interested and excited the subject genuinely makes you, then it doesn't matter whether they're online or not. If you buy in, they will buy in."
As the district and its staff look ahead to the 2021-22 school year, they assess the impacts of a full school year in a pandemic on their mental health, their relationships and their everyday lives. Despite the changes and uncertainties, Lazos' mindset is one of growth.
"It's been a tough school year for all involved, but it's been a growth school year," Lazos said. "Would I like things to be normal? Of course. But, honestly, I wouldn't trade these experiences for anything. I tell my kids all the time, no matter what you do in life, knowledge is the one thing that no one can take from you. If there's one positive amidst all the horrible things going on, is that I think we've all learned a lot. And that makes me hopeful."
Follow Shivi @_shivisharma_ on Twitter. 
Leave a Comment
About the Writer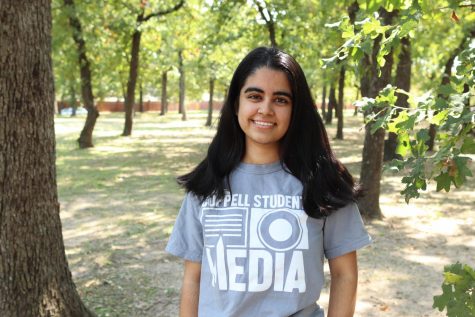 Shivi Sharma, Executive News Editor
Shivi Sharma is a senior and Executive News Editor for The Sidekick. She is part of the IB Diploma Programme at CHS and also edits for Brown Girl Magazine....