"We're going to keep fighting": Locals protest in response to Wright's death
Every time cars honk and passengers holler at the busiest intersection in Coppell, Coppell High School 2020 graduate Angeli Smith jumps and waves the two signs in her hands. The names of two Black men who died in Minneapolis are written on each in bright red ink: George Floyd and Daunte Wright.
"I read the whole story of [Wright's] murder on Sunday as I was pumping gas in my car, and my mouth literally dropped open when I found out this happened 10 miles from where [Floyd] was killed," Smith said. "These people really did not learn a single thing. I felt defeated all over again. I had to go to work after that and continue to smile in people's faces, but on the inside I was like 'half of these people don't even think I deserve rights.'"
Smith and four friends protested these deaths and the public responses to them at the intersection of Denton Tap Road and Sandy Lake Road in front of Frost Bank from 6 to 8 p.m. yesterday. Coppell High School 2020 graduates Carrie Sheffield and Alex McCord and New Tech High @ Coppell seniors Matt Maurer and Cole Ramirez stood by Smith, clutching signs that read matter is the minimum; prosecute the police; enough is enough; Black Lives Matter.
.@NewTechCoppell seniors Matt Maurer and Cole Ramirez and @CoppellHigh 2020 alumni Carrie Sheffield, Alex McCord and Angeli Smith react to cars honking while they hold signs protesting the murders of Black Americans across the United States. #LocalEyesLocalNews @CoppellISD pic.twitter.com/Iom4GtF6CR

— Sidekick Campus News (@CHSCampusNews) April 15, 2021
"Protesting, especially in Coppell, challenges the status quo of 'don't say anything and be quiet with your feelings,'" Maurer said. "This, at the barest minimum, forces people to be aware. Organize. Do things in your community. That's really the only power we have."
Each participant protested not only to increase awareness of the murders of Black Americans, but promote systemic changes to bring an end to these events. For Sheffield, those changes include strengthening local infrastructure by transferring funds from policing to communities themselves. 
"Even if it's five of us on a street corner holding signs, maybe that will get people to go do their research in areas that they should know about," Sheffield said. "The core of it, which I think people think is different from what it actually is, is defunding the police. It's putting that money into foundational structure and other ways to prevent issues in our communities. People have a lot of misunderstandings about what that might mean. That and the proper prosecution of police officers."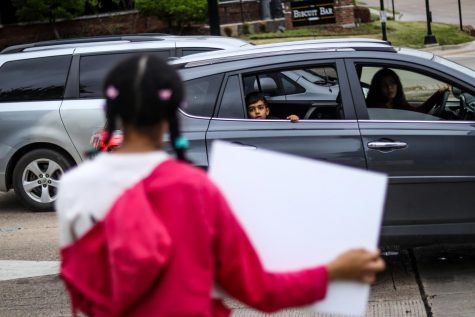 Twenty minutes into the protest, after a child sitting in the backseat of a car waiting to pass through the intersection asked about her signs, Smith explained who Wright was and how he was murdered. Such questions are a common occurrence, according to Smith, and allow her to educate passersby of the severity of events taking place across the nation. 
Another motivator for Smith's actions is encouraging others to continue their advocacy. After Floyd's death and subsequent national and local protests, Smith organized Coppell's July 3 march from Andy Brown Park to Town Center Drive with her sister, CHS sophomore Faith Smith. 
"After [the July 3 protest], I was left feeling very discouraged because I didn't really see any actual changes," Angeli said. "I put myself through so much emotional hardship that it got to be draining for a while. I want to be the person now to say that while it sounds like there's not a whole lot happening right now, we're going to keep fighting."
Follow @CHSCampusNews on Twitter.