Peaceful demonstration allows community to advocate for racial equality
Seven consecutive chants of "say his name" were responded by seven consecutive shouts of "George Floyd" as Coppell residents showed solidarity and support for the Black Lives Matter movement on Wednesday.
Rally organizers Johnny Roberson Jr. and Manuella "Mannie" held a Black Lives Matter Awareness Rally at Town Center Plaza. Prayers led by Roberson marked the beginning and end of the rally.
Roberson stresses that the rally is a peaceful demonstration. The organizers worked with the Coppell Police Department and the City of Coppell to ensure the safety of everyone in attendance.
"We want to shy away from [the word] 'protest,' because it has some negative connotations right now," Roberson said. "It's still very necessary for us to recognize that things go on outside of [Coppell] that aren't being brought to the forefront of conversations."
Two officers from the Coppell Police Department oversaw the rally. Officer Paul Gonzalez expresses his appreciation for the support shown by Coppell residents.
"I've served here for over 20 years and we've been through a lot over those 20 years," Gonzalez said. "Every single time, the community has risen up to back us up as a police department. We don't take that for granted and we know one mistake can mess all that up."
During the open discussion session, several Coppell residents and recent Coppell High School graduates voiced their concerns and opinions. Many shared their outrage over the racial slur that was recently painted on a sidewalk in Andy Brown Park.
"We shouldn't be making excuses [for the person who wrote the slur]," 2020 graduate Angeli Smith said. "It's absolutely unacceptable, no matter what the reason is. It's our job as a community to call it out."
Residents from the Dallas-Fort Worth area attended the rally with homemade signs and masks covering their nose and mouth. Euless resident Ashley Petrie wrote "I can't breathe" on her mask to show solidarity.
"Systemic racism and everything that's been happening is wrong," Petrie said. "As a white person, I have a voice and I can do something with that voice."
For protesters who want to participate in larger events in the Dallas-Fort Worth area, Roberson offers advice.
"Make sure that you and everyone you're going with have pure motives and that you want to create real change," Roberson said. "All it takes is a few people with their own agenda who can cause the whole message to be lost." 
Follow Trisha (@trishatluri) and @CHSCampusNews on Twitter.
About the Contributors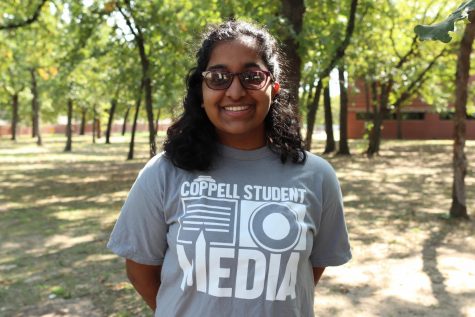 Trisha Atluri, Advertising/Circulation Manager
Trisha is a junior at Coppell High School and the advertising/circulation manager for The Sidekick. She enjoys playing ukulele and discovering new music...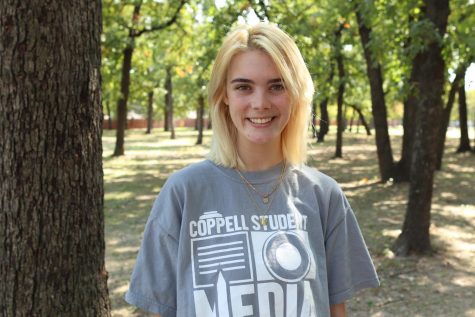 Lilly Gorman, Visual Media Editor
Lilly Gorman is a senior and visual media editor for The Sidekick. In her free time she enjoys shooting 35mm film. She has been playing bass guitar for...