Opinion: Skateboarding lifestyle transcends sports
Skateboarding is not just a sport, but rather a form of expression. A blending of physical movement and style creates a unique sport of skill and determination made through one's personal traits. 
A sport is often affiliated with hard work, sweat and training, and don't get me wrong – the hours and hours you put into skateboarding can be relentless. Countless falls, bruises and scrapes are simply a commodity while skateboarding. However, in a broader perspective, that's only a part of the true nature of skateboarding. In reality, there are many aspects of skateboarding: the relief, the motivation, the tricks and the community.
For me, skating is a time to get away, once the sun sets and it's just you and your board. As the wind blows, all I hear is the music blaring from my phone and the bearings rolling from my skateboard. Trying trick after trick and being lost in a zone of concentration. This is truly what I love about skateboarding.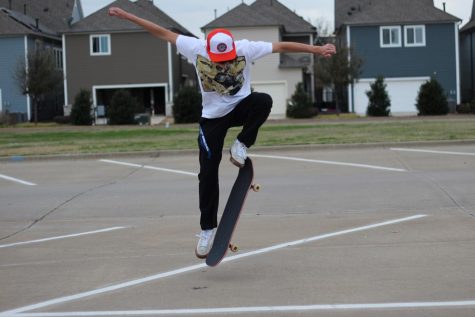 In the four years I've been skating, I've learned it's not the tricks that make you a skater, but rather the captivation found in riding. I'll be honest, that's a bold claim for me; some may consider that to be just another definition for a "poser." But I feel it's wrong to judge someone from their skill level, instead of the interest and dedication they have to the sport.
I'm not the best at skateboarding in any way, and I still consider myself to be an amateur of some sort. However, I've found that skating with my friends, seeing each other slowly improve over time, is another great part of the sport. We push each other to try things we're scared of. If we didn't push each other like we do, I'm sure I wouldn't be at the skill level I am today. We don't just push each other; we teach others too, seeing how we can improve, always trying to outdo each other helps motivate ourselves.
The final aspect to skateboarding: self expression. Just looking at my different skateboards tell a story themselves. The stickers on the deck, the wheels you roll on, the clothes you wear, it's all a part of skateboarding. Most importantly are the tricks you do; no one's going to do them the same as you, and every trick you do is different from the last. 
Skateboarding is a sport like none other with so many unique characteristics that form it into not just a sport, but a lifestyle with self expression weaved through its foundation.