Conducting local elections during pandemic
Partisan, nonpartisan elections on same ballot for first time in city history
I vote in every election because…
Each of the over 100 letters Coppell parent and former 2018 Coppell ISD Board of Trustees candidate Dan Koller signed as part of Vote Forward, a nonpartisan initiative that encourages people to vote by mailing letters, has this prompt for volunteers to write a personalized message.
Before mailing every letter, Koller writes, the more people exercise their right to vote, the better our democracy works for all of us.
"That message is based on the fact that the last time a Democrat won a state-wide seat in Texas was 1990, when Ann Richards was elected governor," Koller said. "People say Texas is a Republican state, but Texas is a non-voting state and Republicans come out to vote more than Democrats do. Vote Forward is about trying to reverse that trend, about getting people to wake up and pay attention."
In Coppell, City Secretary Christel Pettinos thinks despite the pandemic, the Presidential Election will bring a significant turnout. This could also increase participation in nonpartisan, local elections such as the City Council and Coppell ISD Board of Trustees. 
Both elections, which were scheduled for  May, were postponed to November due to the coronavirus pandemic. For the first time in Coppell's history, these nonpartisan elections will be on the same ballot as partisan elections, all the way up to the presidential ballot. 
"
People say Texas is a Republican state, but Texas is a non-voting state and Republicans come out to vote more than Democrats do. Vote Forward is about trying to reverse that trend, about getting people to wake up and pay attention."
— Dan Koller
"In a positive light, you're going to have a great turnout, because you do usually have a larger turnout during presidential elections," Pettinos said. "However, I don't know that everyone is aware that local government is nonpartisan. We always say, 'a pothole does not have a party affiliation'. A concern that I have, is that with voting machines, by the time voters scroll through all of the ballot, they will lose energy when they get to the bottom of the ballot, which is where the school and the city ballots tend to be."
On the Coppell City Council, Places 3 and 5 are up for election. For Place 3, incumbent Wes Mays is running against Davin Bernstein. There are three candidates running for Place 5: Jim Walker, Erin Bogdanowicz and John Jun. Place 4 is the only contested position on the CISD Board of Trustees, with incumbent Thom Hulme running against Neena Biswas. 
"That's what's so beautiful about our country, everyone has an opportunity, as a citizen, to vote and have their voices heard," CISD administrative assistant to superintendent Carol Snowden said. "When you get down to looking at a school board member, those are the overseers for the public school system within that city. It's very important to have interested, active, attentive, strong community members who want to serve, because it is a thankless, unpaid volunteer job that they do and they work hard."  
The last day to register to vote is Oct. 5, with early voting from Oct. 13-30. The early voting window is a week longer than in years' past due to Governor Greg Abbott's bill to allow registered voters a longer duration to cast their ballots. Dallas County allows for countywide voting, which means that voters can vote at any polling location in the county during the early voting window and on Election Day, Nov. 3. 

The Coppell Town Center, and for the first time, the Arts Center in Old Town, will be the city's two polling locations during the early voting window. On Nov. 3, five CISD schools will also be open for voters: Wilson Elementary, Mockingbird Elementary, Cottonwood Creek Elementary, Lakeside Elementary and Valley Ranch Elementary. 
"It's very sad that not many people vote in local elections, because you've got this small amount of voters making big decisions," Coppell Republican Women Club President Kit Whitehill said. "Our city council, our school board, those are all very important jobs, and the decisions they make impact our day-to-day lives. There's no more straight-ticket voting, so you can't just push Republican or Democrat, you have to vote for every person you want to vote for."
Whitehill has lived in Coppell since 1993. When her husband, Bill, an incumbent for the Texas Fifth District Court of Appeals, ran for office in 2012, she began attending Republican Women events in Dallas. In the same year, she founded the Coppell Republican Women Club, which now has approximately 70 members.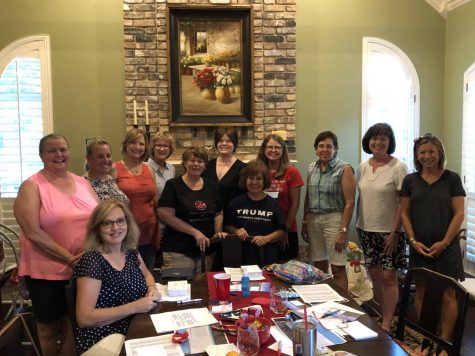 "I never thought I would be involved in politics," Whitehill said. "But once I saw how important it was and what a difference it could make, being involved and engaged, I couldn't be on the sidelines anymore. It's important to be involved because of my children and my grandchildren. America is a fabulous country. I want it to stay that way. I want them to be able to have the same type of world I've enjoyed and the freedoms that I've been able to have."
The club's main goal is to support and elect Republican candidates, but it also seeks to inform women and support female candidates. In preparation for the 2020 election, its members have been canvassing, phone banking and fulfilling roles within the county as precinct chairs and election judges. 
"There's been a big push, this time, by both parties, to register voters that haven't been registered in the past," Whitehill said. "So many things have come up because of COVID-19, and so many people have talked about possible overreach, and what our rights are. I am a very pro-life person, and I do look for candidates that feel that way. I am a conservative, fiscal responsibility is very important to me, and I look for candidates that exemplify that."
To ensure safety at polling locations during the pandemic, the city will provide sanitation stations and train its judges and clerks to conduct the facility in the safest manner possible. Lines are required to be six feet apart, and cleaning services will be provided. 
"I don't want fear to be manufactured over the idea that we're not taking this seriously," Pettinos said. "We're taking every measure possible to make it a safe and conducive environment. I don't think that it's going to be anything more unusual than what we're already experiencing when we grocery shop or we're out conducting our business daily."
"
But once I saw how important it was and what a difference it could make, being involved and engaged, I couldn't be on the sidelines anymore."
— Kit Whitehill
Another issue that has arisen because of the pandemic is a predicted shortage of poll workers, or election clerks, particularly older Americans. Data collected by the Pew Research Center for the 2018 general election found that nationally, 58% of poll workers were 61 or older, including 27% that were 71 or older. According to the Center for Disease Control and Prevention (CDC), adults ages 65 or older are more susceptible to coronavirus. 
Koller decided to take a paid day off from his job on Election Day to serve as a poll worker. 
"The more poll workers we have, the more polling places can be open, and then we have more access to the ballot for everybody," Koller said. "We need a lot more people my age, in their 40s, and people your age, teens, to step up and fill the void."
Coppell is also recruiting high school students who are 16 years of age or older to participate in the electoral process by serving as student elections clerks at county polling locations. After completing the application, students will be trained and paid to work at their assigned polling location.
Coppell High School senior Emily Broome served as an election clerk for a local referendum on Nov. 5 at Town Center, where she checked in approximately 1,300 voters during her 15 hour day. According to Broome, the opportunity to participate in local elections while in high school was extremely valuable.
"It's very important as a high school student to learn and get involved in our local community and politics because that's a stepping stone to our government, cultural issues, college and beyond," Broome said. "Even if some high schoolers don't further pursue the path, the experience of being an elections clerk gives us the knowledge that we're not necessarily taught in school about the voter registration process. It's just so imperative that younger demographics start voting, because their voice matters, and getting that experience prior to whenever you're able to vote is powerful."  
To access their sample ballot, registered voters can visit dallascountyvotes.org. The Dallas Morning News and League of Women Voters are two sources to learn about candidate positions prior to voting.
"Every vote in every race matters," Whitehill said. "It's sad to me that so few people, at times, vote, because so many people in the world don't have that freedom and that privilege. It is a privilege, and it's a responsibility. It's our responsibility to get out and do that and if we don't vote, we really can't complain about what our elected officials are doing. I'm very proud to live here, and very thankful to live here and have the freedoms that we have."
Follow @_shivisharma_ and @CHSCampusNews on Twitter.
About the Contributor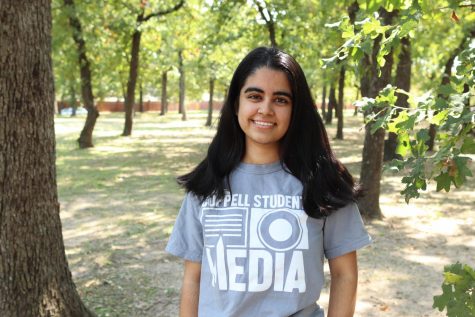 Shivi Sharma, Executive News Editor
Shivi Sharma is a senior and Executive News Editor for The Sidekick. She is part of the IB Diploma Programme at CHS and also edits for Brown Girl Magazine....