Just the beginning
Residents hoping Saturday's Walk for Peace leads to long term efforts
On Saturday morning at the pavilion in Andrew Brown Park East, hundreds of people with different racial and economic backgrounds stood together, eyes closed and heads bowed, deep in prayer.
"Being a black woman it is important to know that everyone cares," Coppell resident Erika Williams said. "That my white brothers and sisters, that my Indian brothers and sisters, that my Mexican [brothers and sisters] – that everybody understands that this is a human issue, and that they care because it has been black people in the country that have been marginalized since the boat got here." 
From 9 a.m. to 10 a.m. attendees of the Coppell Walk for Peace gathered to discuss, walk and pray about racism and police brutality after the murder of Minneapolis man George Floyd by a white police officer on May 25 and nationwide protests. 
"I have a lot of people that say, but all lives matter," event organizer and Coppell resident Stewart Hardy said. "And that's true, all lives do matter, but the Bible says that all people were created in God's image. We're all created the same. When one member of our culture, in this case, the black community is hurting, then it is our job to stand up with them, to love them and to stand up for their rights – for justice, for mercy and for love. Because we are all one."
Hardy was motivated to organize the Walk for Peace after hearing about the racial slur that was found graffitied onto the city park's sidewalk on Monday night.
"I struggled for a long time with feeling helpless of what to do when it comes to the topic of racism and hate," Hardy said. "When we saw the pictures on Monday night of the graffiti here at Andy Brown, here where we are standing, I didn't sleep. I woke up the next morning, angry that it happened in my town. I called a couple of pastors and we put together a flyer."
The act of racism, especially so close to home alarmed many Coppell residents, young and old.
Speakers at the event included Antioch Christian Church Senior Pastor Norris McGill, Fellowship Church Pastor Derric Bonnot and Coppell Police Chief Danny Barton. During his speech, Barton emphasized that police officers should listen to the people they serve. 
"I'm furious that our profession continues to do this," Barton said. "There have been many before George Floyd. We've got to be more strict on our procedures. Enough is enough."
Bonnot sang a medley of songs, including "Amazing Grace" and "Stand by Me". As the crowd clapped along, some were brought to tears. 
The peace walk lasted about 20 minutes. Waving homemade signs, the crowd formed a line to walk a short path in solidarity throughout the park and circled back to the pavilion.
As protests continue nationwide, Williams thinks change starts within Coppell. 
"It's important to make your voice heard where you live," Williams said. "It filters all the way down. Change starts within your community." 
While these protests are new to many, Williams thinks this is an opportunity for growth. 
"Growth and change happens when you're uncomfortable," Williams said.  "With people being uncomfortable seeing a black man murdered on TV, I pray that this is a catalyst to change, to move forward and dismantle the systematic racism and the systems that are put in place that the person that murdered [George Floyd] had, to dismantle those thought patterns. You may not be able to change how they think and how they feel, but for everyone else to stand up and say, no, I don't agree with that, no, that's not right and no, we're done with that, is important."
Hardy hopes that attendees will leave with a sense of love and desire to continue protesting hate.
"To think there is no division is wrong," Hardy said. "But there are more people standing together than apart and we wanted that to be the central theme today: that there is hope, we believe in love, we will not tolerate hate in our town and that this would be something that continues. I have zero desire to be a part of something that is just one thing on June 6, 2020 and we never do again. I want this to be the beginning."
Follow @CHSCampusNews on Twitter for more coverage of Coppell's peaceful protests.
About the Contributors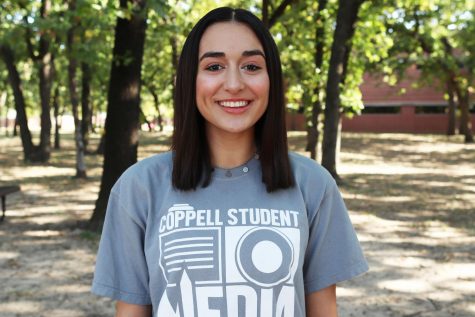 Victoria Hertel, Student Life Editor
Victoria is a senior and the Student Life Editor on The Sidekick. Outside of school, she dances ballet at the Ballet Academy of Texas. She enjoys running,...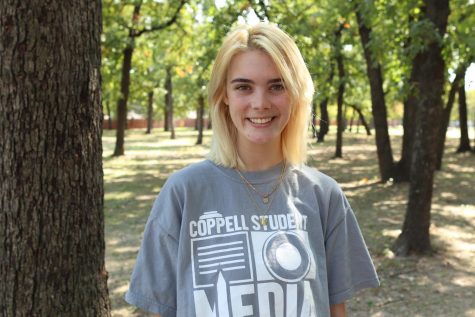 Lilly Gorman, Visual Media Editor
Lilly Gorman is a senior and visual media editor for The Sidekick. In her free time she enjoys shooting 35mm film. She has been playing bass guitar for...