Kindness drives Cates' success in theater, Silver Stars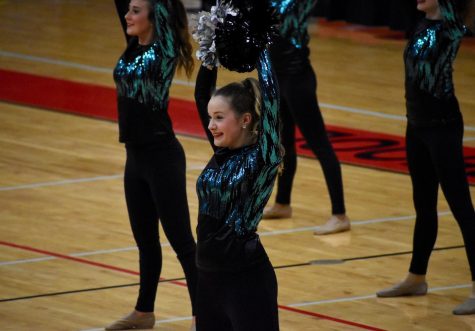 Teeming with excitement, freshman Grace Cates received special permission from Melva Smith School of Dance in Coppell to join a class at just 2 years old. Twelve years later, Cates is a part of Silver Stars, Coppell High School's JV drill team, and works as a stage manager for CHS theater.
Being able to entertain an audience pushed Cates into both activities, where she has found great joy. 
"It's just so fun to put on a big show and entertain everyone and see all the hard work you did get put into place," Cates said. "We get to perform and everyone claps for us and you feel so proud."
Cates' passion for the performing arts gained momentum from her first dance class. 
"She has a lot of good friendships from [both theater and dance]," Grace's mother Rosemond Cates said. "She's developed a lot of new skills and I've seen her passion just grow through the years."
Grace began performing in school plays during her brief time at Broadway Elementary School in Gladewater, Texas. She continued her love for being on stage through middle school and currently serves as a theater technician. 
"I have been in all the plays at Coppell Middle School West and I competed in the Texas [Junior] Thespian Festival [in Grapevine in 2018] with [an One-Act Play] 'Bystander Blues'," Grace said. "I tried out for 'Newsies' and I got chosen to be a technician, which was really awesome and now I do a lot of technical stuff for theater."
Managing both theater and Silver Stars caused conflicts for Grace, since both activities require immense practice before important events. Silver Stars has longer practices before football games and competition season while theater has extended rehearsals before a production.
"I had to miss all the Thursday practices or the games [for Silver Stars]. I did have a lot of conflict but just getting to talk to everybody and just being intermixed in those groups [made it worth it]," Grace said.
Noted by both her mother and CHS9 Theater director Lauren Holt, Grace strives to create relationships with her peers in theater. 
"Grace stands out not only for her dedication to the program, but also with the kindness that she treats her peers with," Holt said via email. "She is a positive light to have in the room and brings a smile to many people's faces."
Grace finds value in both the freshman-only atmosphere of Silver Stars and the upperclassmen in theater.
"I've learned a lot from the older kids [in theater], who have helped me figure out how I need to be contributing," Grace said. "[Silver Stars] is really collaborative. There is a lot of pressure because we are competing but we really work together as a team, even to choreograph our routines."
Since joining high school theater, Grace has been involved in an array of productions as a technician. 
"[Cates] has been involved in every show in Coppell Theatre's program," Holt said. "She was a stage manager-in-training for "Newsies", assistant stage manager for "12 Angry Jurors", and co-stage manager for the ninth grade show, "Shipwrecked" . She has been on top of her roles and has consistently shown up to help with [set] build days."
Originally introverted, Grace gained the ability to create relationships with her peers through Silver Stars and theater.
"When she was little, she was very shy and when she started in performing arts it gave her a voice," Mrs. Cates said. "[I'm proud] that she is so kind. She truly makes an effort to love other people and be a friend to everyone."
Follow Anvitha Reddy (@anvithareddytx) and @CHSCampusNews on Twitter.