Age is just a number
Freshman ranked No. 1 on Coppell girls tennis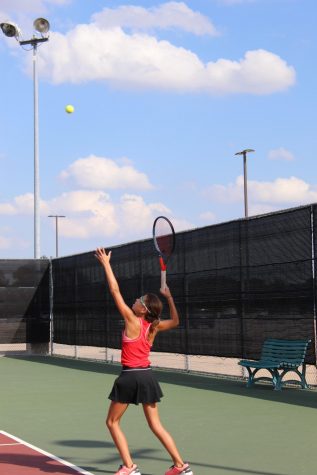 The rhythmic thumping noises as the ball hits the racket and rockets across the court is noise all too familiar for Coppell freshman Lindsay Patton. It's something she's grown accustomed to when she was 8, and now as a freshman, has a part of her everyday life. 
When she first steps onto a court, opponents – often older and bigger – tend to underestimate Patton, a slender player with a small frame. It is a common, but grave, mistake. 
"You look at her build and you might think she's weaker," Coppell coach Rich Foster said. "But she's one of the stronger players we have on the team. Because of her size, a lot of opponents look at her and think, 'oh, this is going to be easy, I'm going to be able to beat her.' That is absolutely not the case. She surprises every one of them. She's a monster on the court."
With the start of fall tennis season, Patton was paired up with New Tech High @ Coppell senior Sofia Sanchez for doubles matches and made a great impression. Soon, she was making frequent appearances in tournament lineups, climbing up to the rank of lines three and four. With the start of the spring season, Patton's great performance promoted her to line one.
"I expected to have some success but I didn't expect to place a majority of the spring tournaments," Patton said. "So that was obviously interesting. But it's also really fun because I work hard and I wanted to do good, so it was paying off. It is really exciting for me."
In Foster's 30 years of coaching at Coppell, female freshmen players on varsity were somewhat uncommon. Furthermore, Foster has only ever seen five female freshmen players break into the top spots of the varsity lineup.
"[Patton's] happiness and joy for tennis is contagious," Foster said. "She truly loves the sport, and that's great anytime you have somebody who lives and breathes their sport… [Patton] is mature beyond her years. She's just a freshman, but you could tell the day she first stepped on the court at Coppell High School, she was going to be a leader on this team. We don't allow freshmen to run for team captain of our varsity team but I see her being a captain in the future, she's just a natural leader. The sky's the limit for her."
Foster had planned to play Patton and Sanchez as a doubles team again for the spring season. However, the spring season was suspended because of UIL COVID-19 precautions. The pair still got the opportunity to play a few tournaments before the season was suspended, finishing top three in most of them.
"We have had freshmen in varsity, but it's really impressive to have one as a regular in the lineup. It's not something that's common," Sanchez said. "She is a great teammate, she is really supportive and always makes sure that everyone feels included. She always gives good feedback."
Patton suffered from an injured shoulder in the fall season and has nearly fully recovered from it. Already a well-rounded player, Patton and her coaches hope to work to better her game in the future. 
"She can go long sets and long matches and never tire." Foster said. "So she's got the endurance, we're trying to strengthen her. Not that she needs to hit the ball harder, she can smack that ball for her size. But we're trying to get her stronger so that she doesn't start getting fatigued and soreness in her muscles." 
At this point, it is unsure whether spring season playoffs will be held this year, but Patton has made it her goal to qualify for state at least once in the coming years. It is a dream that is very much achievable, and with three more years at Coppell ahead of her, time is one thing she surely has.
Follow Akif (@AkifAbidi) and @SidekickSports on Twitter.