Coppell sports suspended amid COVID-19 concerns
Coppell athletics is seeing a stop in all sports following an official announcement from the University Interscholastic League (UIL) prohibiting competition until May 4 due to concerns over the spread of the coronavirus. This is an extension from the previous March 29 suspension given last week. 
Affected sports include girls and boys soccer, track and field, golf, softball, tennis and baseball. 
Competition will resume no earlier than May 4.While the previous directive to prohibit practices outside of the school day (including the use of open gyms, open weight rooms and open facilities) remains, the UIL is expecting to allow practices before competition is allowed to resume. 
"What the UIL is going to try to do with that date is that's the first day we can compete – unless they change it again – but what they're going to do to put everyone on the same playing field is they're going to try to have an opportunity to practice and get reacclimated prior to that date where we can start competing," Coppell ISD Athletic Director Kit Pehl said. "It changed slightly but at the end of the day, it's just more time." 
While the date for practice has not been announced yet, according to Pehl, it will take each district and school closure in the state into consideration. 
While the UIL originally granted new adjusted playoff dates for some seasons, the new suspension period eclipses portions of playoffs for every sport apart from baseball (which had an original district certification date of May 5). New playoff dates have not been announced, though according to Pehl, there is a chance seasons may extend into the summer.
There is also the possibility that seasons will be canceled, though the UIL has stated it is committed to provide the opportunity to compete.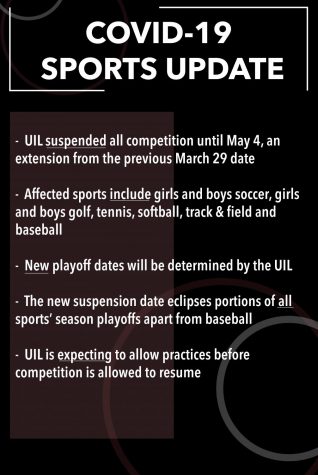 "The UIL, they've communicated enough to this point to know that's not what their goal is; their goal is to make it possible for us to have championships in all sports, but depending on the CDC and depending on state governments even jumping in with directives in regards to closure of restaurants, sure, [cancellation is] possible," Pehl said. "Anything is possible but with every time they extend school closures or competition closures, the more likely and more possible that we won't finish seasons."
The baseball and softball teams (the former having not touched its District 6-6A season and the latter only one game in) are faced with fitting enough district games before the new district certification date to determine playoff contenders. To do this, either each team would play more than the standard two games per week or follow a one-game schedule in which each team faces the others once rather than twice.
"It really emphasizes the fact that every game is going to count going forward," Coppell junior pitcher/first baseman Ryan Tompkins said. "They may take a few district games away [so] we only play everybody once, so it's going to really emphasize the fact that we need to win every single game we go into." 
Both boys and girls soccer teams have one District 6-6A match left to finalize standings, though they do not know when or if it will be played. Tennis, golf and track and field which all compete tournament-style do not know when their district qualifiers are either.
"It's actually a little bit frustrating because we don't have any control over it, there's nothing we can do or could have done differently to affect it," Coppell girls soccer coach Ryan Dunlevy said. "We are just kind of waiting around and we're thankful that UIL took into account everything that's going on and what these kids do and how hard they work to try and earn something." 
Rescheduling these events factors in both UIL and individual school district policies. 
District 6-6A contains CISD, Lewisville ISD, Irving ISD and Flower Mound ISD. Each ISD has its own policy on school cancelation and competition suspension. In order to start rescheduling events, all of the districts must be allowing competitions to take place. Every district has a District Executive Committee which will decide reschedulings. 
"It's not just a matter of what we're deciding, we're impacted by the decisions that Lewisville ISD makes for their schools and Irving ISD makes for their schools," Pehl said. "Of course, all of us are looking to the UIL… If all the school districts are back in school and all the districts have said we are allowed to compete and the UIL has moved the certification date back, we need all of that information before we can reschedule, so there is a lot that goes into it." 
Follow Sally (@sparampottil) and @SidekickSports on Twitter.