Small-town rodeo history provides basis for CHS mascot
Bucking bulls, the whinny of horses, bright lights and commotion – a typical 1960s Friday night at the Coppell Junior Rodeo.
Today, Coppell is a rapidly expanding modern suburb. It is easy to overlook Coppell's humble beginnings as a rural town in favor of its bustling suburban nature today, but that influence is indelible.
The Coppell Cowboys owe their name to the presence of a rodeo in town – the Coppell Junior Rodeo.
Coppell city councilman C.T. Waters led the Coppell Junior Rodeo in its inception in 1960, based on his 8-year old son Mitch's idea. For two years, the rodeo was housed in Wagon Wheel Ranch, site of current-day Wagon Wheel Park. After that, the rodeo moved to a stadium built on the Waters' land, on what is now the Golden Triangle Mobile Home Park.
Young children typically participated in the rodeo in a variety of activities. Volunteers dressed as clowns prepared to distract bulls and protect the riders.
"The people who organized the rodeo were very serious about it," Coppell Historical Society President Pete Wilson said. "It was probably early summer or late winter, and they had lights in the arena – it was kind of like a football game. I remember being there and watching bull riding, roping and clowns. One of the clowns was my friend's mother – she was a funny woman."
Coppell achieved a fair amount of recognition amongst neighboring North Texas towns for the junior rodeo, which took place twice a month on Friday evenings. Local newspapers and television stations alike covered the rodeo. A glimpse at a Carrollton Chronicle article from 1961 reveals "tremendous growth" of the rodeo. A WBAP-TV/NBC Fort Worth transcript from 1960 detailed Coppell Junior Rodeo participants, including a 3-year-old boy. An amused correspondent remarked, "who ever heard of a cowboy with a pacifier?"
In 1975, Coppell High School students created a rodeo team. Austin Elementary physical education teacher Gay Dobecka, a CHS sophomore in 1975, was part of the team. According to Dobecka, the team was reminiscent of activities many participants were already quite familiar with.
"This area used to be full of farming, horses and cows," Dobecka said. "It was natural for us growing up. [Rodeo was a thing] we were doing anyway, and then we got to have fun doing it for school."
Some of the most common activities that members of the rodeo club competed in were bull riding, steer wrestling and barrel racing.
Dobecka still owns her team jersey, made of brown cloth and a large illustration of a CHS bull rider. Decked in these jerseys, the students would compete mainly at Alta Vista Arena in Haltom City, but also at Decatur and Mesquite. Dobecka recalls fond memories of these competitions, including a rare bout of snow during a competition in Mesquite.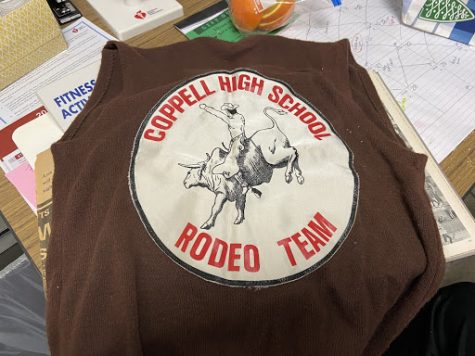 "It was just fun to be with our friends," Dobecka said. "Everyone else thought we were sort of cool because not too many people rode bulls as a girl – and it was fun to have something to do on the weekends."
One of the sponsors of the CHS rodeo team was Sonny Garrison – brother to former Dallas Cowboys fullback Walt Garrison, who was a rancher and rodeo participant himself. This connection, paired with parent support, helped sustain the rodeo team.
"Our parents too, did [rodeo], and with Sonny Garrison, the timing was right," Dobecka said. "Our parents felt that if they kept their kids busy, they didn't have time to get in trouble."
Dobecka remembers a late 20th century Coppell very different from the city of today.
"Every little square inch is filled with something," Dobecka said.  "It wasn't like that when I was growing up. We didn't have all these malls. I remember as a kid, we had to go to Carrollton for groceries. There were just two-laned, black tar roads. We used to get dressed up to go out of town – it was an all-day affair. Unless you had a reason to go somewhere, you stayed [in Coppell]. We were outside playing in the creek, in the pasture, in someone's yard. It was a great life as a kid. I wish kids had that today."
Sports, in general, were a staple of community life. Activities like these would bring liveliness to the otherwise quiet town.
"[Sports] held our community together," Dobecka said. "If there was a ball game, we used to joke that someone could come in and rob everybody blind because they knew where everybody would be. Football or basketball – it was truly the community event. Everybody was there, and if we played out of town, everybody went."
It was this combination of a close-knit, small community and the prevalence of livestock that fostered interest in the rodeo.
It is unclear when exactly the CHS rodeo team ceased to exist. Perhaps, as Coppell became more developed and successive residents owned less land, the next generations of students had interests in other areas. Perhaps urbanization made the rodeo a distant thought.
"I'm assuming life moved on and we didn't have so many cowboys and cowgirls – the interest just wasn't there," Dobecka said.
While Coppell itself now has no rodeo teams or events, some still enjoy rodeos and their connection to the city and Texas history.
"The energy – it's a very cowboy, Southern-type energy – is very entertaining," CHS senior Grace Skinner said. "I wish I could go back and see [rural Coppell and the rodeo]. It's a part of our culture – it'll always be a part of our history."
Follow Akansha (@akanshas120) and @SidekickSports on Twitter.