Will decade of mediocrity come to an end with new hire?
After a 3-0 start to the 2019 season, Dallas Cowboys fans were thrilled, as they hoped for the Lombardi Trophy. With one of the best rosters in the last two decades, I, along with other fans, was excited.
However, everything turned south after three blowouts to what are considered some of the sorriest teams in the NFL. Followed by three consecutive losses, most fans lost hope for another season.
After the 2019 season, the Cowboys fired coach Jason Garrett after a nine-year tenure. For many fans, this was probably better than making the playoffs. Garrett for a while has been labeled as the adopted son of Cowboys owner Jerry Jones. Regardless of how many fans have wanted Garrett gone for years, Jones has had a soft spot for Garrett.
"After watching the news after the last game of the season, I knew his time was up," Coppell senior Rayed Shaik said. "This is much better for the team. I had such high hopes but they were all killed this season. Watching the Cowboys play is like riding a rollercoaster, you never know what is going to transpire."
For years, Garrett has been criticized, not only by Cowboys fans, but by everyone who likes to actively watch the sport. Scrolling through Twitter after a Cowboys loss, users are flooded with iconic photos and GIFs of him clapping.
"Regardless of the situation, you can always see him clapping," Coppell junior Aryan Pal said. "The best part is when television stations pan into him clapping it after a critical play. It really never made sense though, especially when the Cowboys were down by double digits or unable to convert on a set of downs."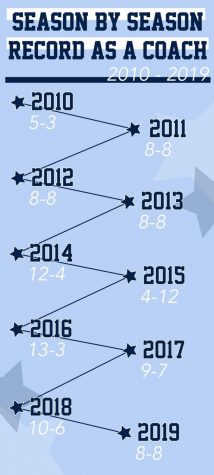 The craziest part of the Garrett tenure is comparing him to coaches with the same experience as him. NFL coaches who have had at least nine years with the same team have been to the Super Bowl – everyone but Garrett and former Cincanati Bengal head coach Marvin Lewis.
While many people say he only has ever had one losing season and a high win percentage, the regular season does not matter. When you are unable to produce Super Bowl run seasons, it all goes to waste. Garrett is 2-3 in the playoffs with both wins coming in the Wild Card round.
This is mostly due to Garrett not being able to get his team going early and refusing to be aggressive when it matters the most. For the last decade, Cowboys fans have yelled at their television wondering why he opted to not go for it on fourth and short.
"Some of his calls have been ridiculous," Coppell senior Brandon Taylor said. "Especially when we are down in big moments, he never wants to go for it. It is one thing trying to win the game, but not even attempting is just calling it quits."
After the season ended, fans were waiting to who would be Garrett's predecessor. After weeks of speculation, former Super Bowl-winning Greenbay Packers head coach Mike McCarthy was given the reins. McCarthy, like Garrett, has also been under fire, especially for the last two seasons with the Packers.
However, this addition to the Cowboys organization looks to recreate the success so many fans had witnessed in the 1990s. As we approach next season, Cowboys fans such as myself are hopeful for another season that is yet to come.
"[McCarthy] is a great coach and I know he can turn this franchise around to make it much better," Shaik said. "He developed one of the best quarterbacks in Aaron Rodgers and now has access to one of the best rosters in the league. Garrett has always been the problem, now we might have a chance to finally have that Super Bowl run."
Follow Arman (@arman_merch) and @SidekickSports on Twitter.