Coppell sending 2 to state, more records broken at regional meet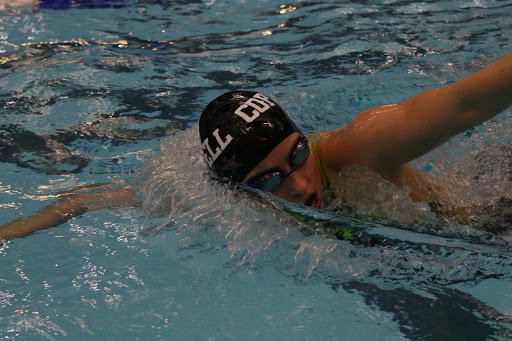 LEWISVILLE –  Armed with determination and countless hours of practice, the Coppell swim team participated in the Class 6A Region II Swimming and Diving Meet on Friday and Saturday at the Lewisville ISD Westside Aquatic Center. 
Coppell's individual qualifiers were senior Johan Pretorius (100-yard backstroke), senior Aurelie Migault (100-yard breaststroke and 100-yard freestyle), junior Cole Tramel (500-yard freestyle and 200-yard freestyle), junior Ivan Lau (200-yard individual medley) and junior Shreya Tirumala (100-yard backstroke). Coppell also participated in six relays (200-yard medley relay, 200-yard freestyle relay and 400-yard freestyle relay for girls and boys).
By the end of the meet, a place in the Texas State Swimming and Diving Championships was secured by Pretorius for the third year in a row, who placed first in the boys 100-yard backstroke with a time of 51.21. Migault placed third in the girls' 100-yard backstroke with a time of 1:05.50, and received a call-up to go to state finals for a second time.
The Texas State Swimming and Diving Championships is at the Lee and Jamail Texas Swimming Center in Austin from Feb. 14-15.
"Honestly, I didn't shave or rest for this meet, which almost everyone at this meet did, so I was kind of at a disadvantage. But I just came in here with a good mindset, and now I'm ready for state," Pretorius said. "My goal is definitely a top five finish or a top three finish with my [100-yard] backstroke, and I have two weeks to get ready."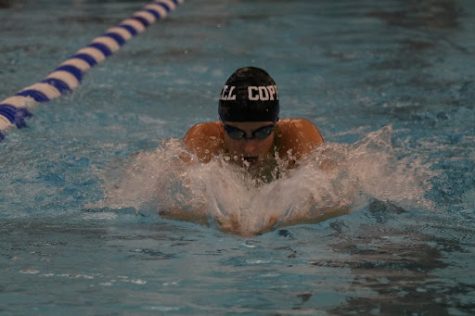 On top of the swimmers moving on to state this year, two school records were broken. The boys' 400-yard freestyle relay team consisting of Lau, Tramel, Pretorius and senior Ben Borchgardt finished with a time of 3:16.13, breaking the previous record by five hundredths of a second. Migault also swam a new school record at the meet on Friday, dropping more than a second off her own previous record in the 100-yard breaststroke.
Despite breaking two school records at the previous district meet, Tramel did not place and will not be advancing to state. However, the 400-yard freestyle relay is the third record he's broken in the same year within two weeks of each other. 
"I wanted to make a final, but I didn't really feel great yesterday. I didn't go nearly as fast I had hoped, and I feel like the hardest part was getting over that and still [going] fast on the relay and not [getting] discouraged," Tramel said. "For most of today, I just couldn't go as fast as I had wanted to, but we've been trying to get this school record for a while now, and I didn't want to be slow and not get the record. So I went especially hard on that."
According to Coppell coach Marieke Mastebroek, the fact the Coppell swim team has come this far is an achievement itself.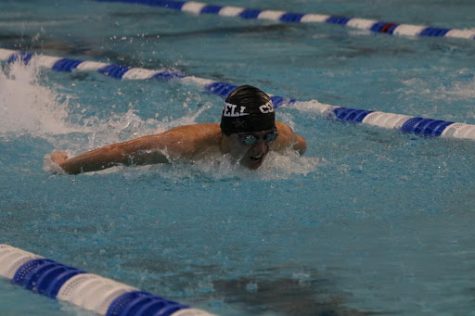 "We're not very fortunate to be up against two of the best teams, [Southlake Carroll] and Flower Mound. And sometimes, it feels like the teams [we're racing] against are so far ahead, it looks like we're just drowning in the pool. But the reality is, we don't have the same advantages that they do," she said. "They have Olympic sized pools, we have a six lane at the YMCA pool with warm water. They have a feeder program where kids leaving swim lessons at age 4 or 5 or 6 automatically go into the swim team and get developed there. But we have kids that start swimming at 12 or 13 or 14, some of them [having] never really done any swimming, and we have to develop them as quick as we can."
Also according to Mastebroek, because Coppell lacks an established swim club, most athletic students choose to join programs such as soccer or football and "never even set foot in a pool." Thus, the students the swim team is able to pick from to join the program is slim. 
"When you take all that into consideration, then I think for me as a coach, coaching this and just seeing these kids having fun and getting better every year and doing this as a team with team spirit is rewarding. The depth of the program is [improving], and we see in Coppell that the kids are excited to race," Mastebroek said. "This is my fourth season with Coppell, but I couldn't be happier with all of the support I've gotten in growing this program. [Starting as] a small and underrated team, in just 3 to 4 years the program has grown. We're going uphill, and [we're] going fast. This is us just getting started."
Follow Joanne (@joannekkim) and @SidekickSports on Twitter. 
About the Contributors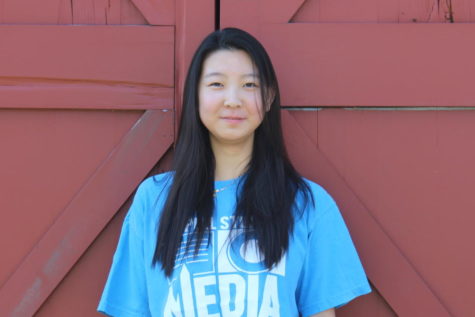 Joanne Kim, Staff Writer
Joanne is a sophomore and a first-year staff writer for The Sidekick. When not doing schoolwork or extracurriculars, she can likely be found reading, taking...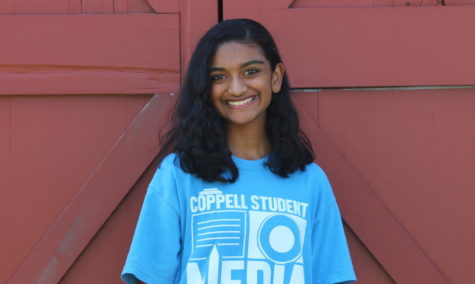 Sally Parampottil, Executive Sports Editor
Sally is a junior and the Executive Sports Editor on The Sidekick. When not working on homework or other school-related activities, she can be found rewatching...