Final stretch: Migault, Pretorius reach consolation finals in UIL state championships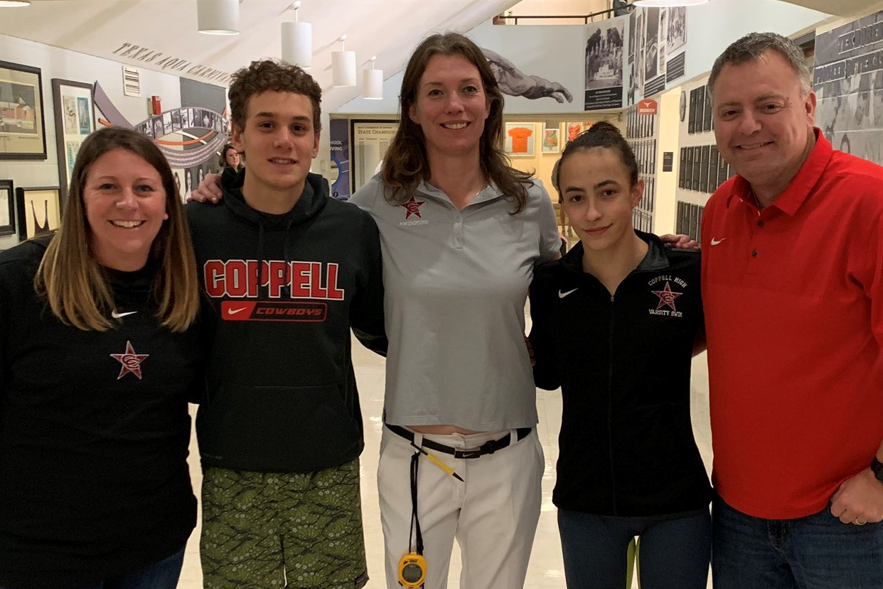 Coppell High School juniors Johan Pretorius and Aurelie Migault traveled to Austin this weekend to compete in the 2019 Class 6A UIL Swimming & Diving State Meet at the Lee and Joe Jamail Texas Swimming Center. Both swimmers made consolation finals, with Pretorius finishing 12th in the 100-yard backstroke and Migault finishing 13th in the 100-yard breaststroke.
The boys 100 backstroke and the girls 100 breaststroke were back to back events, with prelims on Friday and finals on Saturday.
Pretorius had a seed time of 50.47 seconds and finished his heat with a time of 50.97 seconds. With a finish of 51.54 seconds in finals, he secured fourth place in consolation finals (B finals) and 12th overall.
Two week earlier at the Class 6A Region II regional championships at Lewisville ISD Westside Aquatic Center, Pretorius took first place in the event with a school record of 50.4 seconds.
This is Pretorius's second time at the state competition. Last year, he automatically qualified by placing second at regionals. After making finals in Austin, he placed third in consolations and 11th overall with a time of 51.4 seconds, which remained the school record until he lowered it this season.
Pretorius was not available for comment.
For Migault, state was a new experience.
"I was very nervous [before the race]," Migault said. "I felt good in the water, I felt strong. That changed, from nervous to just strong."
At regionals, she placed fourth in her event with a school record of 1:05.6, just .005 seconds slower than the school record she set in prelims the day before. She qualified for state, as her time was within the fastest eight in the state after the automatic qualifiers, being the first female swimmer to represent CHS in many years.
At state, with a prelim time of 1:05.88 seconds, Migault earned a spot in finals. There, she placed fifth in consolations and 13th overall with a time of 1:06.29 seconds.
"I definitely didn't reach my goal for my time [of 1:04]," Migault said. "I added instead of dropping time. I did want to final, and I did that, so I guess I reached my goal for finaling."
Despite a slower finish than she hoped for, Migault found the competition to be a learning experience.
"I know what my competition is like next year," Migault said. "I know what times I need to reach, and that will be helpful."
Both swimmers still have a year left to compete in high school level.
"Looking forward to next year, we're really hoping for Aurelie and Johan to have their breakout years at state," Coppell coach Marieke Mastebroek said. "It would be really, really, really neat to see where they're at a year from now, considering they keep getting faster. I think both of them haven't maxed out and haven't reached their peak yet, so [I am] really looking forward to that."
As of now, Migault and Pretorius have sectionals for their club team, the North Texas Nadadores, in two weeks to focus on.
For the Coppell swim team, the season proved to be fruitful. With double the state competitors this year and multiple new personal bests, along with numerous new school records, the team has been improving as a whole.
"This is my third season with this team," Mastebroek said. "It just keeps getting better. The depths of the program has grown to where I almost don't have a JV group anymore. All these kids these last years have been stepping up and crowding out the JV team. That itself is fun because the entire group, all the levels, is practically all varsity material."
About the Contributor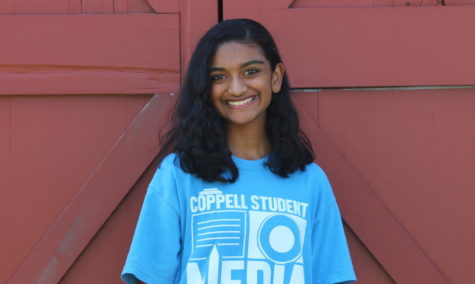 Sally Parampottil, Executive Sports Editor
Sally is a junior and the Executive Sports Editor on The Sidekick. When not working on homework or other school-related activities, she can be found rewatching...