Campus restrooms undergoing rehaul to meet ADA compliance change
With renovations expanding from hallways to classrooms at Coppell High School, the restrooms are no exception. Currently, most CHS restrooms are undergoing another renovation project to meet the standards for the new Americans with Disabilities Act (ADA) compliance change the school must follow because of the various upgrades happening.  
The ADA mandates all public and private sectors provide the same opportunities to those with disabilities. To satisfy this requirement, Coppell ISD is redesigning all the student restrooms to ensure those with disabilities can use the restroom in an efficient manner.
"You have to make sure we have certain stalls and areas children with wheelchairs can get into, and [will] be able to go to the restrooms, too," CHS Principal Laura Springer said. 
In each restroom, one stall will be removed to make space for a handicap stall and an ambulatory stall. Due to the shifting of the stalls, some pipes have been and will be readjusted to accommodate for the change. 
However, the sudden start of the renovations has confused and even frustrated many students including CHS senior Raisah Khan, who walked into the upstairs B hall girls' restroom with missing stalls. 
"I was completely shocked," Khan said. "It was so confusing seeing that. It felt like I was in the boy's bathroom. It looked completely different." 
Due to a communication error with the construction company, some of the restroom stalls were removed. The administration chose not to close the restroom as there are still two toilets with intact walls students could use. 
They have since added the stalls back to the restroom, which is now in full use.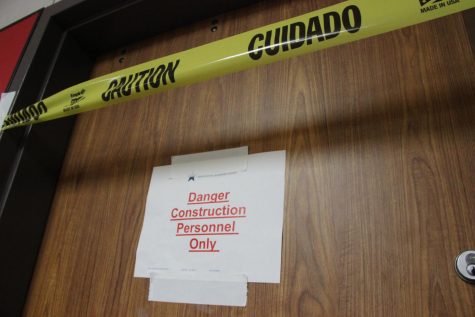 While the construction has caused an inconvenience for some, the CHS administration and the Northstar Builders Group are optimistic that all renovations will be completed by August. 
The restroom renovations are included in the budget for the renovations to the classrooms and hallways, which totals approximately $16,649,827.
While the restrooms have also been experiencing issues with clogging and overflowing, it has been more of a maintenance issue than a renovation issue. 
"Most of the toilets now are about 1.1 or 1.2 gallons per push, [which is how much water is released to push down waste]," Northstar head of construction  Nathan Johnson said. "You get less water. So you're dealing with older pipes where buildup happens and now you have less water pushing waste down, so you end up going into those [clogging] issues. It's something that I don't know if there will ever be a remedy [for]. It's just going to be a constant maintenance problem the maintenance department will have to keep up with." 
Amid these issues, the administration hopes those who use the restrooms keep them in an ideal condition for future use. 
"You need to make sure you respect the bathrooms because they are there for you to use," CHS assistant principal Chris Gollner said. "So that means look at the urinal, don't go on the floor. If you have a pen in your pocket, don't mark on [the walls]. If a urinal is overflowing, don't keep flushing it over and over again just to see the water rise. Reach out for help if you see something that is going wrong." 
Follow Nishant (@Nishantnm1) and @CHSCampusNews on Twitter.