Part 2: Tornadoes wreck area around Walnut Hill Elementary but unite community (with video)
This story is part of a Sidekick series about the tornadoes that affected Dallas on Oct. 20, 2019. 
DALLAS – When Walnut Hill Elementary students left school on Friday, Oct. 18, they had no idea they wouldn't be returning the following Monday. 
Or the next. 
Or the next. 
On Oct. 20, 10 tornadoes touched down across North Texas; along with Cary Middle School and Thomas Jefferson High School, Walnut Hill suffered immense damage from the storms. Its students are currently relocated to Tom Field Elementary school, and it is uncertain whether Walnut Hill will be rebuilt or not, as Dallas ISD's leadership and Board of Trustees are still considering options. 
"Walnut Hill's campus still needs to be thoroughly evaluated to determine if it will be rebuilt," Principal Phillip Potter said via email. "The message I want to send is even though we lost our building, we didn't lose our school. [Also], daily life is back to normal as we are focused 100% on culture and instruction to ensure results for our kids as we are a campus with a rich tradition of excellence no matter our location."
From donations – both monetary and otherwise – to volunteers, Dallas ISD has received help from numerous residents, businesses and more to facilitate the schools' recovery. 
"The outpouring of support from parents and the greater Dallas community is positively overwhelming and astounding and it shows how the city is stepping up," Potter said via email. 
Dallas ISD is not alone in its pain – or its gratitude. Multiple neighborhoods around Walnut Hill Elementary were also left in shambles, and many residents appreciate how much others are doing to help them, including Patricia and Jack Padian. 
"This is a wonderful area," Patricia said. "Everyone has been wonderful. People from St. Monica Catholic Church came over; the Dad's Club, they took all the trees that were in the street and moved them. All of our neighbors, younger neighbors, came to make sure we were alright."
Due to the unpredictable nature of tornadoes, most did not have much time to prepare for the storm, if any. 
"Well, our experience is sad because we're two elderly people; my husband was in the bedroom watching the [Dallas Cowboys vs. Philadelphia Eagles], I was in the den, watching BBC," Mrs. Padian said. "We didn't even know what was going on, there were no sirens, the Cowboys were not interrupted. Nothing, until I heard a crash in the kitchen, and then the skylight came down through the roof. That was the first time we realized anything was going on at all."
Although much of the interior remained untouched, many of the home's double-pane windows shattered, and the outdoor shed was completely destroyed. Piles of debris floated in the couple's pond, some not even from their neighborhood.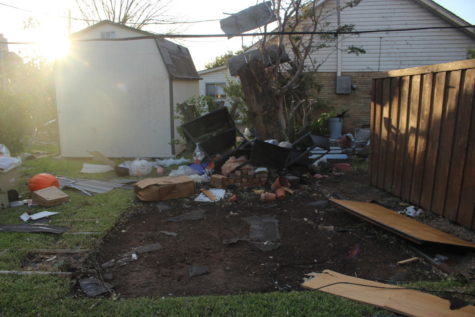 "The whole thing occurred in two minutes," Mr. Padian said. "The aftermath [shows] how good the people are. It takes something like this to see how good people are."
Fabian Ramirez, the Neighborhood Code Representative II of the city of Dallas's Code Compliance Services, is one of the many people working hard to help affected residents.
"The No. 1 thing is the safety of the citizens of Dallas," Ramirez said. "The most important thing is to get the [power] lines back up, get the electricity back up. But also, just the safety of the citizens, that they're aware of what's going on with the lines down."
Four miles from Walnut Hill, Northway Church also sustained significant damage to many areas, including its worship center and next-generation building. Coppell High School 2001 graduate Matt Younger, who is also the church's pastor of ministries, lives across the street from the church and was one of the first to see its destruction. 
"I'm the staff member that lives closest to the church," Younger said. "The Cowboys game was on, it was halftime, I got the text from my dad [about the] tornado warning, so we jumped in the closet. One of the guys who works here said, 'Hey, I think there's damage to the church.' So my family and I drove up here, and we saw it, it was awful, we all started crying – my wife and three kids and I. It was awful. To see the architecture go was sad, but more than anything our house of worship, it's just so sad to see that."
With the help of a few nearby churches,Northway Church organized a community dinner on Oct. 23 to unite people and help provide relief. A few local businesses chipped in as well, such as Duracell with its charging stations and Kroger with its donated water. 
"[The dinner] is a small gesture of love and comfort," Younger said. "There's both grief and hope for us."
Follow Pramika (@pramika_kadari) and @CHScampusnews on Twitter