Part 1: Disaster strikes shopping center, neighborhoods
Karen Lu, Daily News/Assignment Editor
October 24, 2019
This story is part of a Sidekick series about the tornadoes that affected Dallas on Oct. 20, 2019. 
DALLAS – A light flickers from a fallen traffic light. Telephone poles, bent 45 degrees, lay across the intersection, forcing passers-by to step over their twisted wires. Windows are shattered, and roofs are entirely lifted from their buildings. 
Sunday night's tornado decimated the shopping center on the corner of Preston Road and Royal Lane. Where blocks of stores, restaurants and establishments stood now lie shards of glass and exposed insulation, boarded windows and broken scaffolding.
Nine tornadoes struck the North Dallas area Sunday night, including an EF-3 twister that cut through northwest Dallas and Richardson—the strongest and most destructive of the nine. EF-3 tornadoes are classified by estimated wind speeds between 136 and 165 miles per hour.  
Each business, including White House Black Market, in that strip must board up the shattered windows and secure the building.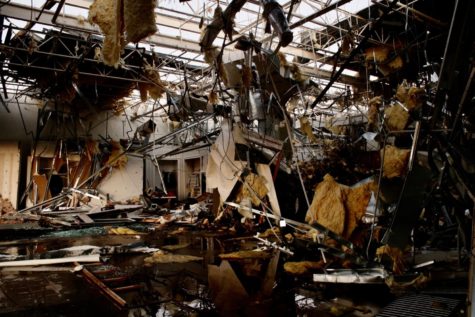 "[Friday] night, I thought maybe the tornado didn't hit us," White House Black Market general store manager Ellen Yung said. "I had read on a post that T.J. Maxx was OK, and we're just directly across the street, so I thought we might be OK too. But then I saw a video circulating where Talbots and Interabang Books was hit really hard. Then, I wondered because we're so close to them."
Despite the destructive path of the tornado, there were no resulting fatalities or critical injuries. 
"Of course it's devastating, but we're just thankful the entire team is safe," Yung said. "On Sundays, [the workers] leave at 6:30, and we weren't here in the area when [the tornado] happened, so just thank God."
Before insurance adjusters can come in to evaluate the estimated cost of repairs, the area must be cleaned up to prevent any possible further damage. Entrust One Facility Services is a commercial janitorial company based in the Metroplex that works with emergency relief for major disasters. 
"Things need to be left pretty much untouched until the insurance adjusters come so they can assess the cost of damage and approve an amount to repair the facilities," Juan Zamora, Chief Operating Officer of Entrust One, said. "It's too early for the adjusters to come. Mainly, our goal right now is to make the place as safe as possible for people that are going to come and do the adjustments. We have to make sure there's no danger of debris."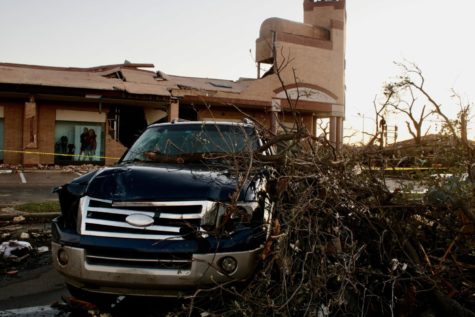 The damage seen in the neighborhoods surrounding the Preston Royal Shopping Center is across the board. In the neighborhood of Preston Hollow, many houses suffered minor cosmetic damage in their yards with scattered tree branches and lost electricity.
"Here in Preston Hollow, people are all over the map," Preston Hollow resident Marcie Pagel said. "There's some critical damage, structural damage. It's all over the board. For people who were critically hit, right now is just taking care and figuring out the next step. For us, for people who aren't out of their homes, it's just about cleaning up, waiting for electricity to turn back on. It might be a while. Water is running, but electricity has been out since [Sunday] night. We've been hearing it's going to be a couple days, but I've heard in other parts of North Dallas it'll be three to six weeks."
On the other side of the Preston Royal Shopping Center lies a neighborhood that appears as if it's from an entirely separate world, despite only being a few blocks down. House after house displays roofs either partially destroyed or completely lifted off. Fences are collapsed inwards, exposing the destruction within the yards and houses themselves. 
Joy Colemen is a resident within that neighborhood and must tear down her house before rebuilding. She was in her house with her family when the tornado struck.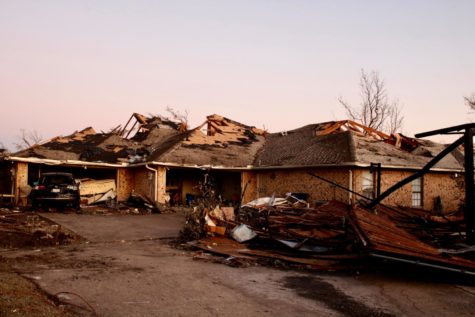 "I just thank God that He took care of us," Colemen said. "We were in the house, and we knew something was happening. We were watching the [Dallas Cowboys vs. Philadelphia Eagles] football game, and we saw the windows compress in, and I thought 'huh'. And I said, 'guys, let's get into the closet now.' And they said we're fine, and I said 'no, hurry hurry.' And I grabbed my dog—I have a 160 pound dog—and I said get in the closet. And then all of a sudden, the sound, it sounded like a big freight train. The roof kept going up and down, and no wonder why. There it is; it's all gone. I just pray to God to take care of us. I knew He would."
The true destruction of the tornado is seen within homeowners like Colemen.
"It's devastating," Colemen said. "It's shocking and I'm in disbelief. I'm just thinking is this truly happening, and it's still not real. It's just sad. You work hard and hard and hard. It's just devastating to see everything you do and put your hard work into and it's gone just like that. It was in 10 minutes. It's gone."
Follow Karen (@_karenlu_) and @CHSCampusNews on Twitter.