Coppell Student Media wins Best Website, celebrates 10 year anniversary of first win
On Thursday afternoon, with excitement in the air and phone notifications on high, The Sidekick staff members were greeted to Coppell Student Media being awarded Best Website in the 2018-19 Dallas Morning News High School Journalism Competition.
Coppell Student Media was launched in 2008 as a website to host media published by The Sidekick and KCBY-TV. Before the website launched, The Sidekick was a print-only publication. In 2009, Coppell Student Media won the Best Website award, followed by another win in 2011.
"The Best Website award presented to us is tangible proof of our hard work," The Sidekick junior copy editor Pramika Kadari said. "I know many staff members who make The Sidekick their number one priority."
"
"Your job [as a staff member] is to report and tell the success stories of other groups and individuals," The Sidekick adviser Chase Wofford said "It's neat whenever it comes back your direction and you are the story being recognized for doing something really great.""
— The Sidekick adviser Chase Wofford
At the event, junior staff writer Neha Desaraju and senior editor-in-chief Kelly Wei received recognition for placing as finalists in the annual journalism competition. Executive news editor Christine Zacuai was recognized as The Sidekick's Most Valuable Staff Member.
In addition to being a finalist in two categories, Wei won Best News Photography for a photo of a Dallas March For Our Lives protester, from "This is what democracy looks like".
"I do a little bit of everything on staff," Wei said "I primarily design, but I also write. Photography is the thing I touch the least. I'd never really done journalistic photography before so it was a pleasant surprise."
Zacuai and Wei were chosen as interns for The Dallas Morning News 2019 summer internship program. This summer marks the fourth year in a row that a Sidekick staff member has interned at the Dallas Morning News.
Best Website
Winner: Coppell Student Media
Sports Feature
Finalist: staff writer Neha Desaraju
Commentary
Finalist: editor-in-chief Kelly Wei
Editorial
Finalist: The Sidekick (written by editorial page editor Claire Clements)
News Photography
Winner: editor-in-chief Kelly Wei
Illustration or Cartoon Portfolio
Finalist: editor-in-chief Kelly Wei
About the Contributor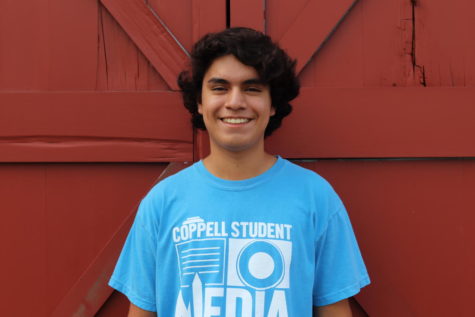 Andrés Bear, Coppell Student Media Web Producer
Andrés Bear is a senior and third year staffer on The Sidekick. He enjoys playing the acoustic guitar, writing and reading in his free time. With comments...