An exhilarating finish: Cowboys triumph over Guyer in penalty shootout
LAKE DALLAS – The penalty shootouts score stood 4-3 with the Cowboys in the lead and the Wildcats on their last penalty shot. If they missed now they would be eliminated from the playoffs.
A single penalty kick.
A moment that is over in a split-second. A split-second that could break down what teams had been working hard to build up for the past three long months in a blink of an eye.
As the final Denton Guyer shooter took the field to take the season-defining penalty kick, the spectators, majority of which were Wildcats supporters, boomed as they cheered on.
But just a split-second later, the spectators fell silent as the crucial penalty kick flew over the crossbar. The Cowboys bench became the sole noise in the stadium as it exploded with joy knowing that they are still in the race for the state championship. In its Class 6A Region I bi-district playoff opener, the Cowboys won 0-0 (4-3) in penalties against Denton Guyer.
"Every one of the shooters had looked at me and said 'I'm confident I'll score, I want it.'" Coppell coach James Balcom said. "I told them that regardless of how it went, they had their brothers supporting them, and they rose to the challenge."
Coppell awaits tonight's Grand Prairie-Skyline winner in next week's area playoffs.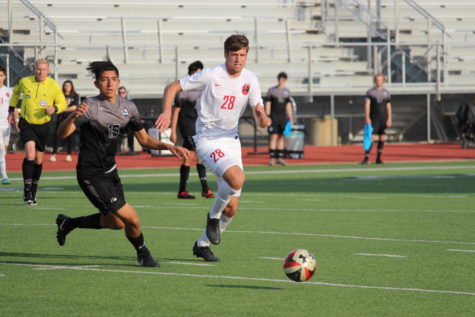 Coppell dominated possession in the first half, constructing many attacking plays and managing to get seven shots on target, but the match remained scoreless as the end of the first half.
As the final whistle drew closer, the match saw shots on shots from both sides, but with the score still remained tied at the 80th minute, the teams prepared to battle it out in overtime.
With great attacking plays and chemistry up front and a rock-solid defense, the best of both teams was put on display in overtime, but the scoreboard remained untouched.
"We had many opportunities [to score], we could have put that game away in the first half, but the, unfortunately, the goals never came," Balcom said.
As penalties came around, the stadium's atmosphere grew increasingly tense. Coppell senior midfielder Jeremy Basso, senior midfielder Johnny Koponen, senior defender Dail Kang and senior defender Blake Bartlett all scored on penalty shots. Denton Guyer scored its first PK but went on to miss its second thanks to an acrobatic save by Coppell goalkeeper Austin Simmigan and its third, match-deciding, PK due to an off-target shot.
"When I went up there, I just tried to stay relaxed," Koponen, who scored the fourth and final Coppell PK, said. "We've practiced penalties a bunch of times, I know that I have missed a few shots in practice, but I still walked up there with confidence tried to not let the [Denton Guyer] crowd affect me."
Follow Akif at @AkifAbidi