TLC applications come out for 2010-2011 school year
Story By Henna Khan
Staff Writer/Photographer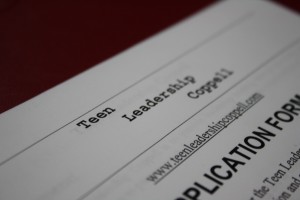 Applications for the Coppell Youth Leadership program, formerly known as Teen Leadership Coppell, were released this week to interested sophomores who were interested.
                A program available to both Coppell High School students as well as those attending New Tech [email protected], TLC, according to its Web site, has a mission to provide  leadership training  through knowledge and skills, motivation and collaboration to prepare youth for everyday contributions as current and future citizen leaders.
                "TLC is a leadership organization, so any student who is interested in developing leadership characteristics is more than welcome to apply," CHS Dean of Instruction Gina Peddy said.   "The values and characteristics that a student needs to have would consist of good grades, not necessarily all A's, good attendance, good overall character and involvement in school activities."
                Hundreds of sophomores have been applying for the past 10 years the program has been available; however, applications are open to residents of Coppell as well. After the interview process during the fourth week of April, only a select few will make the cut for next year's TLC group.  
                Applications are due by 4:00 p.m., Friday, Apr. 9.
                Monthly meetings are held where students will develop the confidence and knowledge they need to succeed in leadership positions while learning about community service opportunities. According to the Web site, commitment to attend all activities by the student is essential to the program's success.
                Service projects are determined by the students. Once the money is allocated through a series of fundraisers, the service projects are then able to be executed.
                "I want to get more involved because this is a prestigious group with a lot of great things to offer," sophomore Tanner Lines said. "I have been giving back to the community through volunteer work for several summers now. My service project idea is to help kids in East Dallas through the Voice of Hope organization, in hopes of giving them a safe place to be."
                Students need a variety of skills to become a member of TLC and according to Peddy "confidence" is the key to be chosen.
                Some of the monthly topics in meeting will be leadership skills, career options, volunteer opportunities, personal health and team building.
                "TLC is something good to be involved with as well as something impressive to put on you college applications," sophomore Tara Henry said. "I want to try and get students to go green and be more environmentally friendly as my contribution to the organization. I already play the role of a class officer, and whenever I join something I am dedication to it."
                The Teen Leadership Coppell Selection committee is made up of community leaders and volunteers.
                "It is our hope that students leave TLC having enjoyed the experience, having learned much from the experience, and share the experiences with others.  We would want these students to continue being the leaders that we have started," Peddy said.