Minnesota minnow to state shark
Migault representing swim program at state championships
To automatically qualify for state championships, a swimmer must finish in the top two places for his/her event in the finals at regionals. Coppell High School junior Aurelie Migault placed fourth in the 100-yard breaststroke.
A few hours later, she learned she had advanced to state anyway.
Migault will travel to the University of Texas Natatorium in Austin to compete on Friday and Saturday in the 100 breaststroke.
In Texas, the fastest eight times per event after the top two per region also qualify for state. Migault, with a time only 0.05 seconds slower than the school record she had set the previous day in prelims of 1:05.1, had been one of those top eight times.
"It was pretty hard because we are in one of the fastest regions in the state," Migault said. "[Waiting for the results] was awful. They update the times from all the regions on this app, and I kept on checking and comparing the times. I was somewhat expecting it because I saw the slowest callback time from last year, and I went faster than it by over a second."
Migault also competed in the regional finals for the 100-yard freestyle. After breaking an 18-year-old school record in the district meet, Migault went to lower the time again in prelims at regionals. In the finals, she lowered it once more to 52.09 seconds, finishing third in the race. While she did not make the cut for state, she successfully lowered the school record by two seconds in total.
Despite what one may assume when hearing Migault's impressive results this year, this was not always the case. After moving to Coppell from Orono, Minn. after her freshman year, Migault's times were more or less average.
"[Migault] came as a good swimmer but nothing special with her times," CHS swim coach Marieke Mastebroek said. "It was just in no time that kid got faster and faster and faster. It's definitely rare that you see that much progress in a year and a half's time. She now is state material."
With the strong swimming program in Texas and the dual coaching experience from the CHS swim team and her club team, the North Texas Nadadores (NTN), Migault was able to improve her skills and develop strong commitment towards the sport.
"From our move down from Minnesota to Texas, we've seen an explosion in her swimming," Aurelie's father, Laurent Migault said. "Her times are dropping like crazy, she's getting more confident, and she is getting more hungry for better results. I'm hoping that continues through her next year and in college."
Aurelie was introduced to swimming when she was in Minnesota at the end of second grade. Her school there allowed her to swim for the varsity team in seventh grade, which she did until she moved away. She also swam for a separate club team, the Metro Marlins, which is where she had first learned to swim.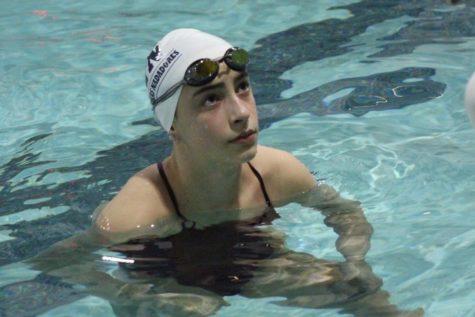 "I started around [age] 8, but I wasn't very good at it," Aurelie said. "It was more just trying to get the hang of [swimming]. I got competitive around 10 years old. I was getting better at it and it got to the point where I was like, 'OK, I'm actually kind of good'."
Now a passionate swimmer, Aurelie's work ethic and determination do not go unnoticed by her coaches and teammates.
"She's very, very dedicated," CHS senior swim captain Yue Taira said. "She's always thinking about how to improve her stroke and how to improve her times, things like that. Everything from what she does in practice to what she does out of practice, like resting and diet, she's just really dedicated."
Swimming takes up a large portion of Aurelie's life. Morning practice for the school added to afternoon practice in Southlake for NTN, in addition to meets nearly every other weekend means a packed schedule.
Looking to the future, Aurelie hopes to swim for a Division I college and make junior national cuts. Looking forward to the much closer future with state competitions, Aurelie hopes to make finals and lower her time to 1:04.
"For right now, I'm back to my normal training," Aurelie said. "I wasn't sure if I would make it or not so I didn't taper, which is when we go easier on our practices. I did that for regionals, but I don't plan on doing that for state, because two weeks after state, I have sectionals for club swimming. I'm just going to do my normal practices and sets before state."
From average swimmer to the first CHS female state competitor in many years, Migault has shown substantial growth in her swimming career.
Follow Sally (@sparampottil) on Twitter.