After back-to-back losses, Cowboys playing to win against Flower Mound
Though the Coppell soccer team initially started off its District 6-6A season strong, it suffered two losses as its momentum failed to carry on to its matches against Hebron on Friday and Irving on Tuesday.
But now, the Cowboys, standing at sixth place on the district table with a record of 2-3-0, have a chance to redeem themselves when they play next against Flower Mound at 7:30 p.m. on Friday at Buddy Echols Field.
Coppell has had a somewhat unpredictable season so far. The team experienced a fairly successful preseason with a record of 5-2-1, which ended with a 5-0 win against Keller Timber Creek. Coppell also performed great in its first District 6-6A matches, winning 5-1 against Irving MacArthur, but since the Cowboys have taken three losses and only one win.
"We are doing  a lot of things right to get the results, but they are just not coming," Coppell coach James Balcom said. "I hate to point to this, but looking at stats, such as shots-on-target and possession, you can see we have been performing well. But unfortunately, the final products are not wins. We are telling our guys that [qualifying for playoffs] are close. A couple bounces here and there, and this season could well be as close to undefeated as we seen."
So far, Flower Mound has fared better than Coppell this season, standing at third place in district with a record of 3-2-0. However, like Coppell, Flower Mound has also been suffering from a losing streak: falling to Hebron, 1-0, last Friday, followed by a 2-0 loss against Marcus on Tuesday. Interestingly, two of Coppell's three losses this district season have also been to Hebron and Marcus.
Coppell's chances of making the playoffs are not extinguished. With Flower Mound in third place and Lewisville standing at fourth place have a record of 3-2-0, not very far from Coppell's current 2-3-0 record.
"We have one more game in the first half of district; right now we are far from the playoff cut off, but a win tomorrow night puts us right back in the race," Balcom said. "This district is incredibly competitive, [but] right now if we take care of business and do what we should do, we will be fine. We have told these guys the mentality has to switch up a little bit and that we have to play harder. The pressure is on us at this point, so we have play with an underdog mentality."
Leave a Comment
About the Writer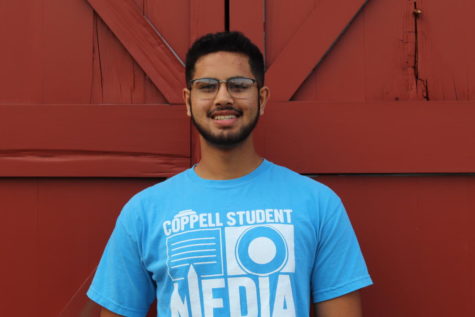 Akif Abidi, Staff Writer
Akif Abidi is a senior and a third-year staffer on The Sidekick. In his free time, he enjoys playing soccer, working out, video games, watching shows...