Cowgirls secure 2-0 win against Hebron in an exciting match
Last night, the Coppell girls soccer team faced Hebron at Buddy Echols Field in its second District 6-6A season match and walked off the pitch with a 2-0 win.
Even though the Cowgirls came out with a two-goal lead, the match was a difficult win. Both teams were in-form at the match, with Coppell recently coming from a 3-0 win against Irving MacArthur and Hebron returning from a 6-0 win against Irving Nimitz, resulting in a fast-paced match from start to end.
The match started fairly evenly, with no one team dominating the field. As the time passed, plays became more and more offensive minded: the Cowgirls landed multiple close shots and a long-range power shot from the Lady Hawks barely missed the top right corner around the 20th minute, but the score still remained scoreless.
The tiebreaker came before the halftime whistle. A foul on CHS junior forward Rebecca Watley lead to a penalty kick for the Cowgirls, which was taken by junior left fullback Haley Roberson. Though the initial shot was blocked by the keeper, Roberson got to the rebound and slammed the ball in, making the score 1-0.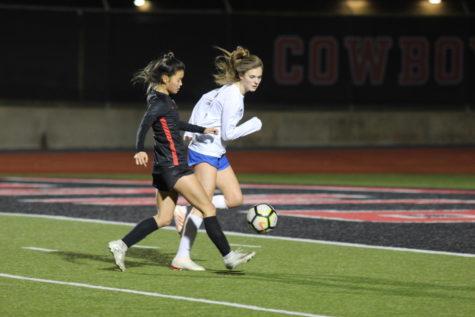 The second Coppell goal came with 32 minutes left in the second half: a great through ball behind the Lady Hawks' back four by CHS junior forward Micayla Weathers to Watley, who sprinted to the ball and hit the it into the net in a one-on-one with the keeper, leaving the final score 2-0.
"When we got the penalty kick and scored the first goal, it shifted the momentum in the match to our side," Roberson said . "We just had a lot more intensity in us and played harder after that, which gave us our next goal later and carried us through in the rest of the game."
Though the Cowgirls maintained a clean sheet, there were multiple well-played attacks by the Lady Hawks throughout the match, but due to the excellent defending by the Cowgirls back four, none of them made it to the back of the net.
"The win was a full team effort, but the overall attitude and approach to defending was just phenomenal," Coppell coach Ryan Dunlevy said . "We took advantage of our opportunities and became a dangerous team on the counter attacks and then we defended well as a whole group."
The Cowgirls play the Lewisville Farmers at Buddy Echols Field in its third district match on 7:30 p.m. on Tuesday.
Leave a Comment
About the Contributors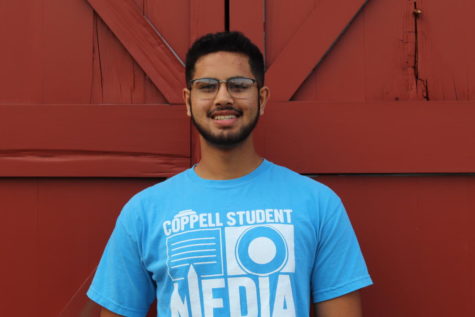 Akif Abidi, Staff Writer
Akif Abidi is a senior and a third-year staffer on The Sidekick. In his free time, he enjoys playing soccer, working out, video games, watching shows...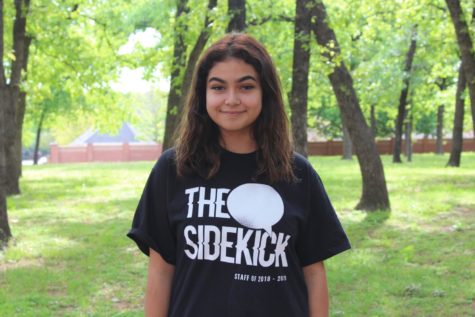 Stephanie Alvarez, Staff Photographer
Stephanie Alvarez is a first year member in the sidekick as a photographer in her sophomore year, She enjoys the outdoors and going on adventures . You...