New equipment, technology, excite community during CMSW grand opening (with video)
DALLAS – Excitement and delight ran through the air as the Coppell community gathered around the newly built Coppell Middle School West for its grand opening.
On Wednesday, CMSW hosted its grand opening to showcase the newly constructed campus and the different type of teaching that would occur for generations to come.
Around 300 attended the opening including CMSW students, parents, staff members, former students and even retired CISD teachers.
To start the opening, speeches were given by Coppell ISD Superintendent Brad Hunt, CISD School Board of Trustees President Tracy Fisher and CMSW Principal Emily Froese.
Followed by a performance from the CMSW choir group, the ribbon was cut by Froese with the community cheering on a future of collaborative and unique learning.
Many students who attended the former CMSW were filled with joy to be learning in a different environment, including seventh grader Hannah Tbaba.
"I really like the new school. It is a great improvement since it has a lot of open and outside spaces for us to work in," Tbaba said. "We get to move around instead of just sitting in one spot."
Not only were the students eager to settle in, many teachers also loved the layout of the new CMSW including dyslexia therapist Pam Yazbeck.
"I love how the design of the new school is very flexible," Yazbeck said. "We can do things with 250 kids or we can do things with small one on one groups. The school is also more connected, so I can meet with other faculty members who I really did not talk to in the former CMSW."
But even parents who saw a glimpse of the school during the grand opening were intrigued by the design and layout
"The location is perfect for the kids because it is not too far from the former school," CMSW eighth grade parent Karthik Suryanaryanan said. "The school is also larger, allowing kids to play around. The campus is more vibrant, there is more light and there are bigger collaborative spaces which my son is very excited about."
But the main reason for the design of the new CMSW is to foster collaboration and communication that will attribute to a better learning environment.
"The main focus of this designing process was for the kids," Fisher said. "Educators and students got together with the architects and talked about how they would best design a learning space for kids."
But the concept of adding a new middle school started when secondary growth began to hit south Coppell. To solve this growing issue, a group of community leaders met with the school district leaders to see what could be done.
"During the process, there was a strong feeling that we wanted to make a ninth grade center," Fisher said. "But we also knew that we could do something with New Tech. Although, we figured that a ninth grade center would need to have the facilities with respect to fine arts and athletics, which West had already set up."
Therefore, it was decided that the former West would be good for the ninth grade center, and CISD decided to build a new middle school in Cypress Waters, where there was much land to accommodate for the growing population.
Amid the strenuous two and a half years of planning, Froese is happy the students can learn and maximize their capabilities in a transparent and open environment.
"I am just really excited to see the students and teachers coming into the new school to experience the new technology, the little spaces, the big spaces, the gym and the cafeteria. It is just really nice to that we are making this place our own," Froese said.
From transparent windows to flexible furniture, CMSW hopes to be the epitome of unique and collaborative learning, for generations to come.
Follow Nishant @Nishantnm1
Hang on for a minute...we're trying to find some more stories you might like.
About the Photographer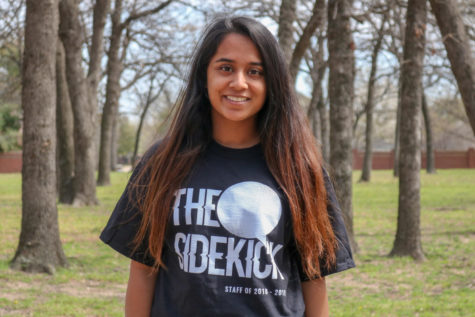 Rishika Rakwal, Staff Photographer


Rishika Rakwal is a senior and a first year photographer on The Sidekick. During her free time she enjoys dancing, traveling, and hanging out...