Theatre Coppell reels in audience with captivating performance
"It's easy to love people when they're loveable … the real test is loving them when they're not," said Andrew (played by Thomas Caldwell), one of the main characters in Theatre Coppell's "Reel Men, the Fitzhugh Brothers" production.
The play was performed numerous times, beginning on Aug. 17, and the last performance was on Sunday afternoon. The actors have been preparing since June.
With only three actors and very few set changes, the production was quite minimalistic. Only essential props were used; costumes consisted of nothing more than casual clothes and hats. Much of the focus was put on the characters' dialogue.
"I've never worked on a play with such a small cast," Caldwell said. "You get to know each other and you really develop a relationship as a character with this other person who's playing a character."
The show follows three middle-aged brothers: Walt ( Mark Roberts), Richard ( Martin Mussey) and Andrew. Walt and Richard's relationship has always been rocky, so Andrew arranges a fishing trip for the three of them during which he hopes his brothers will talk through their disputes.
Laughter fills the theater constantly, as humor is  laced into every page of the script, and the actors deliver it well. Much of the humor is from the brothers insulting each other, or from Walt's comedic personality.
Each of the brothers has their own story. Walt still blames himself for accidentally hurting his brother when he was a child, Richard is an author who has divorced four times and Andrew's ex-wife has recently been pushing to receive all his possessions. Because their lives are developed so fully, each character feels like a real person.
"I was trying to think about what Walt would really be like in real life," Roberts said. "I felt like I had to understand what made him human and what struggles he had, what frustrations he had before I could make him funny."
"
I felt like I had to understand what made him human and what struggles he had, what frustrations he had before I could make him funny."
— Mark Roberts
Roberts has never acted in theater before, although no one in the audience would have guessed it. Despite his lack of experience, he even manages to pin down his character's heavy accent.
Because the production is an original play, the playwright is also the director.
"It hasn't been performed by a lot of other people, so there's not an established image," Caldwell said. "We were able to bring who we are and our interpretations of these characters to the play. [Also], It's very fortunate to have the playwright as your director."
The audience mostly consisted of older citizens who could relate to the character's lives. They left the theater still chuckling, and the actors still smiling from the satisfaction of a great show.
"[Theatre Coppell] is one of the best community theaters I've worked for, everyone seems to really care about the productions," Caldwell said. "This was my first time with Theatre Coppell, but it's not going to be my last."
Follow Pramika @pramika_kadari

Hang on for a minute...we're trying to find some more stories you might like.
About the Contributors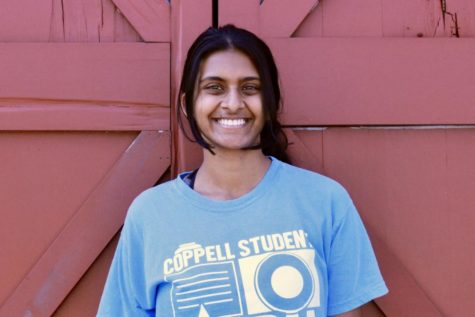 Pramika Kadari, Executive News and Enterprise Editor
Pramika Kadari is a senior and the Executive News/Enterprise Editor on The Sidekick. In her free time, she enjoys reading, writing, watching movies and...