DECA brings record competitors to international competition
This year, the Coppell High School DECA chapter had a record number of 28 students advance to the annual International Career Development Conference (ICDC) at Mercedes-Benz Stadium in Atlanta.
Held from April 21-25, the conference allowed students to present either oral or written projects and listen to the presentations of other competitors during the trip.
With more than 20,000 competitors from 50 states and seven countries, there is no doubt the  ICDC level of DECA was fiercely competitive, bringing only the best of the best up for show.
However, CHS DECA was not intimidated as it brought back a top 10 finalist and 13 competitors who received achievement awards for qualifying scores for finals.
"I've run into other advisers that have worked 10 to 15 years and are very dedicated to DECA and never had anybody even make finals, much less top 10," DECA advisor Richard Chamberlain said. "It's a very huge deal to have somebody even make it that far."
Although it is only his first year competing, CHS junior Saket Asher received a medal of excellence for a role play performance for Human Resource Management. He is the second top 10 finalist for ICDC in CHS DECA history.
"It feels like a big accomplishment for me especially," Asher said. "It should also show the school does a good job of helping students and helping posture their passions."
By participating in DECA, Asher is learning  skills such as conflict mediation that will come in handy to future business endeavors.
"My ultimate goal is to pursue medicine, but I hope to one day own my own clinic and run it myself," Asher said.  
Students are not only grateful to have their hard work and preparation for the competition recognized but for the memorable experiences that the conference allowed during the four day trip.
"Every state or country had different trading pins and memorabilia that you would trade with other countries and states," junior CHS Janvi Patel said. "There was this cheese hat that everyone was going crazy over – it was so funny."
Having been a DECA adviser for 12 years, including the past three at CHS, Chamberlain feels nothing but excitement and accomplishment of the students. He looks forward to more opportunities for the ICDC competition in Orlando, Fla. next year.
"[I'm] just really proud of the hard work they put in," Chamberlain said. "They are able to be that dedicated to DECA, try to go to every level, and enjoy their time with friends."
The 13 competitors who received achievement awards for qualifying scores for finals are as follows:
Senior Ken Nomura and senior Megh Pandhi – Buying and Merchandising Operations Research
Senior Lekhitha Ammaresh and senior Anita Kalahasti – Buying and Merchandising Team Decision Making
Seniors Aditi Jain and Rishika Katamneni – Hospitality and Tourism Operations Research
Junior Jingchun Quan – Food Marketing Series
Juniors Shruti Kilari, Rhea Mehta, Sandhya Srinivasa – Entrepreneurship Promotion Project
Juniors Esha Ellendula and Janvi Patel – Fashion Merchandising Promotion Plan
Junior Varenya Shrikant – Hotel and Lodging Management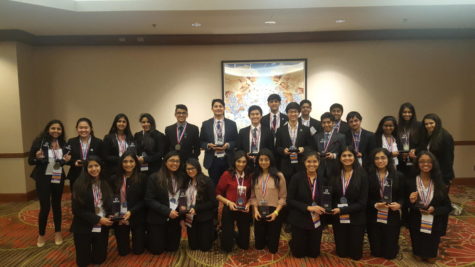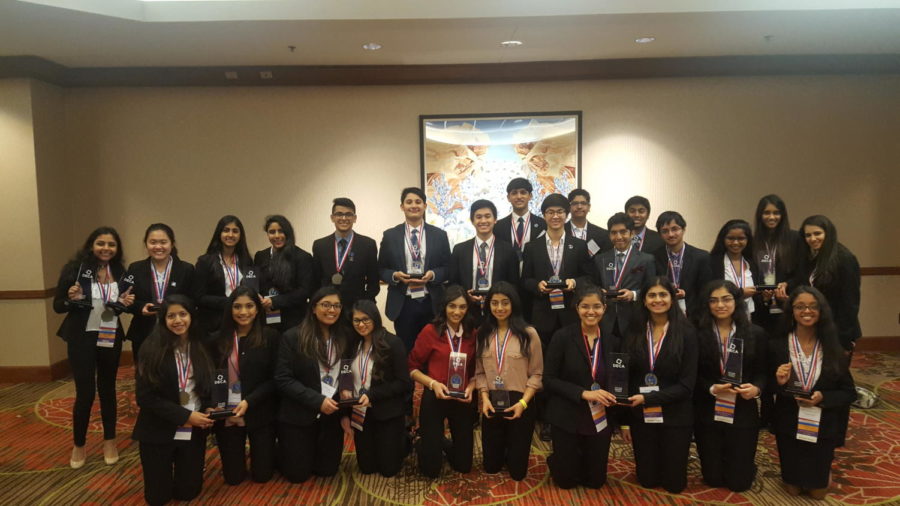 About the Writer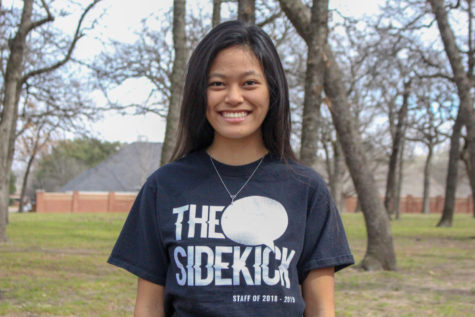 Christine Zacuai, Executive News Editor
Christine Zacuai is a senior and the Executive News Editor on The Sidekick. She is always searching for the next best pho spot and bingeing The Office....