My happy ending: Why I am not continuing synchronized swimming in college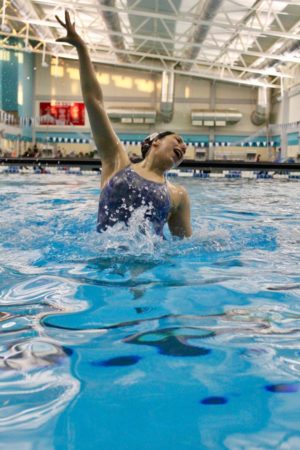 If I could pinpoint the moment I decided not to pursue synchronized swimming (synchro) in college it would be two years ago at a competition in Mesa, Ariz. as I clung to the pool wall staring at a Lindenwood University swimmer.
The nerves I had for my upcoming routine combined with the image of the swimmer's swimsuit riding up led me to ask myself:  "how awful would it be to have to do this in college?"
It was then that I decided maybe synchro beyond high school was not for me. That moment marked the beginning of the end.
Then came national team trials… and that is when I really knew.
I had come into the event not really expecting to make the national team and just wanting to experience an elite synchronized swimming tryout. Through the intense lap swim workouts and nerves of swimming a new routine, I quickly learned that if this is what higher-level synchro entailed, I did not want any part of it.
The truth is, I am not willing to go through the commitment that synchro beyond high school would become. I have had an amazing experience in the sport and I do not feel like I need to take it to a collegiate level in order to feel fulfilled. As senior year comes to an end, I am coming to the stopping point of my synchro career, and I am OK with that. I leave full of memories and formative experiences from my time in the sport.
No activity I have done has added as much color and dimension to my life as synchro. I came into the sport 10 years ago through an introductory summer class because of the perfect fusion of swimming and ballet it offered. It was, and still is, exciting because of this unique combination.
Over the years, synchro has become much more than a fun extracurricular activity. It has given me a second family. It has thrown me into the embrace of a bunch of wild teenage girls who get more excited about how I look for social events than I do.  It has provided me future bridesmaids for my wedding, a best friend who edits my homework though she goes to a different school, and teammates who not only physically, but mentally synchronize with me since we share many of the same odd interests, memories and passions.
Additionally, synchro has given me coaches who care not only about my athletic performance but also my emotional wellbeing- and a coach that always makes sure that I eat enough of her husband's amazing Korean barbeque (thank you Soohee).  Through synchronized swimming, several people have come into my life who have shared their love and knowledge with me. These people make it hard for me to part with this sport.
Still, I am OK with not continuing synchro in college because I feel fulfilled by the encounters it has given me. I will forever be thankful for the experiences this sport has allowed me to have, the people it has led me to meet, and the places it has taken me.
Because of synchronized swimming competitions, I have been able to eat fatty take-out pizza on Laguna Beach, Calif., walk through Times Square at midnight with my teammates, and take a 12-person selfie in front of the White House. I have competed at national competitions, slept over with an Olympian and come closer than any of my friends have to going pro by trying out for the U.S. national team. I have had a good run- or swim- in synchro which is why I am ready to let it go.  
By being a part of synchro I have become a more whole person. I have gained leadership skills and lifelong relationships which ultimately developed me into a better person than any other activity could have. I know that I was put into this crazy sport for a reason but doing synchro in college is not part of my journey.
It know it is time for me to trade glittery swimsuits and sore muscles for whatever opportunities lie ahead. It is time for me to synchronize with college life and dive into a new beginning.
About the Photographer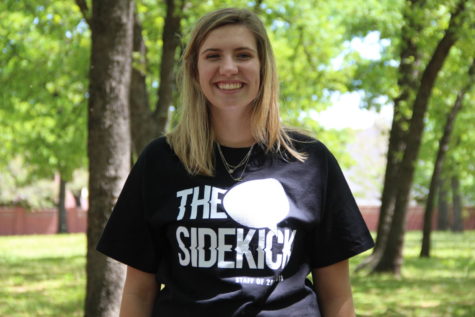 Aubrey Phillips, Staff Photographer
Aubrey Phillips is a senior and second year staffer on The Sidekick. In her free time, she enjoys spending time with friends and family, listening to music...