CHS media programs take home top honors at journalism convention
Wren Lee, Executive Design Editor
April 18, 2018
The announcer went down the list of National Scholastic Press Association Online Pacemaker winners during the JEA/NSPA Spring National High School Journalism Convention in San Francisco and said, "Another school from Texas," then paused.
"I know there were other schools from Texas that were finalists," The Sidekick adviser Chase Wofford said. "As he's going down the list, we're a school from Texas, could this be us? When he said it, it was just excitement. It was a different feeling from last year being the first time [to win a Pacemaker] but it was just as sweet. It was an exciting moment. But his pause made it a more dramatic moment."
For the second year in a row, Coppell Student Media won an Online Pacemaker, one of the highest national awards a high school journalism program can win. The website, which launched in 2008, won its first Pacemaker in 2017.
"This is a huge accomplishment," senior digital content editor Lili Lomas said. "I know that I wanted, that the editors wanted, to uphold the Coppell Student Media Pacemaker title. It was honestly very fulfilling because it was something we were towards for the whole year."
For Lomas, winning a Pacemaker this year meant something more than a plaque.
"I know for us, it was like we're not living up to the expectations of last year because we won a Pacemaker last year," Lomas said. "For me and a bunch of the other editors, we didn't want to feel like we were living in the past editors' shadow. We wanted to create our own legacy."
Both The Sidekick and KCBY-TV contribute to the Coppell Student Media website.
"I like to think that KCBY and The Sidekick are brothers and sisters," junior special features staff member Peyton Wallace said. "Everything that [KCBY] does goes back into The Sidekick and vice versa. It's great to see what we're getting recognition and our partner is also getting recognition. With every story we create, we can contribute to The Sidekick's success as well."
As the Best of Show top 10 countdown reached No. 2 KCBY adviser Irma Kennedy turned to Wofford and said, "Alright, that means we're No. 1."
The Sidekick and KCBY each claimed first place in Best of Show, a competition at convention where attending programs submit their product to be ranked by on-site judges.
When they first found out, Kennedy's students were excited.
"It was really awesome to see a show, especially one we did, one we put together and worked on so hard, end up being successful," senior producer Rachel Behrndt said. "It's nice to know that we're the best in the nation. I think that we're the best in the nation, but to hear that from someone else, it's nice."
Kennedy was confident that KCBY's Show 10 would succeed, though.
"I know that this year our show is the most solid that we've ever had," Kennedy said. "You watch it, and it very closely mirrors what a local newscast would look like. We've got the teases, we've got the bumpers, we've got the technical elements really down pat. The videography is wonderful. Our storytelling has improved a lot. I felt confident that the product we worked on this year was where it needed to be. I would put our school up to anybody, and it worked."
The Sidekick submitted its April issue to Best of Show. Junior art and entertainment editor Kelly Wei has been designing for The Sidekick since her sophomore year and has seen the program grow.
"A lot of [the designers] have gotten bolder and become more open to interesting designs and shapes instead of playing it safe," Wei said. "It's a big reason why this issue is our strongest issue."
Contentwise, this issue featured stories ranging from the staff's list of places for food and entertainment in Coppell to sophomore staff writer Anika Arutla's personal column about mediation to senior editor-in-chief Amelia Vanyo's centerspread story about March for Our Lives and the resulting student activism.
"This [content] is the culmination of the past four issues of work and improvement and getting that experience," Wei said. "We're a young staff this year] with many new staff members], so this fifth issue is kind of a milestone. It shows that we've reached a new level."
Follow Wren @laurenwrenlee
About the Contributor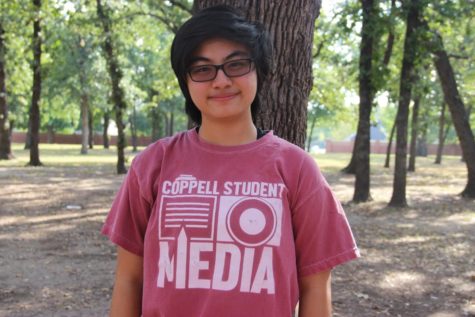 Wren Lee, Executive Design Editor
Wren is a senior. She moved here from the Land of Disney: Orlando, Florida. Yes, she went to Disney a lot. Yes, she has been to Universal. Wren adores...