Dallas Restaurant gets taste of Coppell artist's talent
Teruya's mural on display near popular park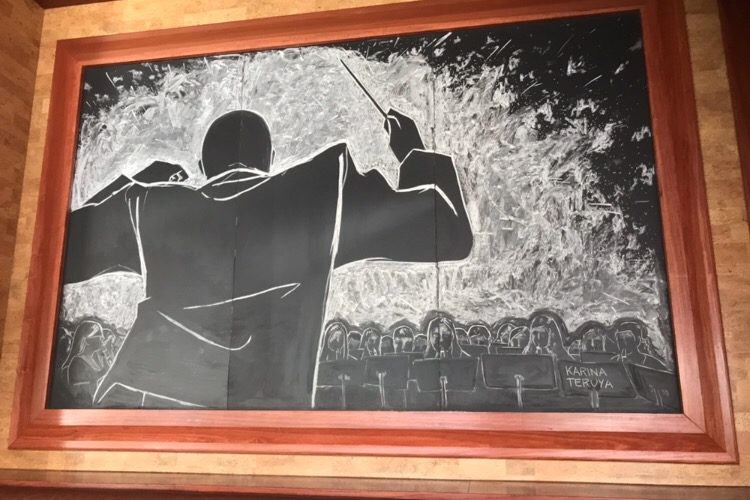 DALLAS – For as long as she can remember, Coppell High School junior Karina Teruya has loved art. She was overjoyed when, recently, her drawing Conductor was selected to be showcased on a large chalkboard at the highly-rated LARK on the Park restaurant in Dallas, adjacent to Klyde Warren Park.
"I really like how I can express myself [with art]," Teruya said. "I can capture emotions and feelings in art, and I love that about it. I was really excited [when I found out my drawing got chosen] especially because I've never done something so large-scale before in such a public place."
LARK has been featuring local artists' chalkboard drawings for several years, but this is the first year it opened the opportunity to students instead of professional artists. Through the Dallas Museum of Art's Young Masters program, the restaurant selected six students' drawings for exhibition.
Apart from Teruya, others chosen were Fernando Avelar from Plano East Senior High School, Varsha Kumar from Plano West Senior High School, TomIsaac Mark from Richardson High School, Anna Redman from Lovejoy High School and Eli Ruhala from Lovejoy High School. The chosen artists will receive $300 for their college fund, and their creations will be on display at LARK for three months.
"I like having our local artists here," LARK manager and server Sara Purcell said. "I really enjoy that it's high school students we're showcasing. It's all local artists around Dallas, so it pulls that big city but small world feeling."
Conductor was inspired by the CHS Band Mid-Winter Concert, which Teruya attended on Feb. 8. The piece was a new experience for Teruya not only because of the publicity that came along with it, but also because it was the first drawing she did in chalk.
"I've done art in a lot of different mediums, but never chalk," Teruya said. "Recently, I've been playing around with sketching a lot. Even though they're not final pieces, I feel like sketches have more energy and emotion than a lot of my final pieces, which I like."
Across Sunday and Monday, the artists were given 36 hours total to complete their chalk drawing on LARK's chalkboards, and worked during the restaurant's business hours.
Teruya planned ahead by completing several sketches beforehand. She also went in an hour before business hours and used a projector to help her sketch out the drawing's general proportions on the chalkboard. After approximately five hours of hard work, Teruya finished her drawings and was one of the first students to do so.
"
I was just focusing on what I was drawing and nothing else."
— Karina Teruya
"When I first got there and started drawing, it was kind of scary, with people watching me," Teruya said. "But the more time I spent on it, I kind of got in the moment. I was just focusing on what I was drawing and nothing else."
Teruya plans to apply to have her work featured in the LARK restaurant again in future years, and is more confident about her chances of success with one year under her belt.
"Now that I know what kind of pieces they look for, in the future I would have a better chance of getting in again," Teruya said. "It's a great opportunity."
Aspiring artists can view the submission guidelines for LARK's showcase on their blackboard website, which is also where they can find past years' features.
Follow Pramika on Twitter @pramika_kadari
About the Contributor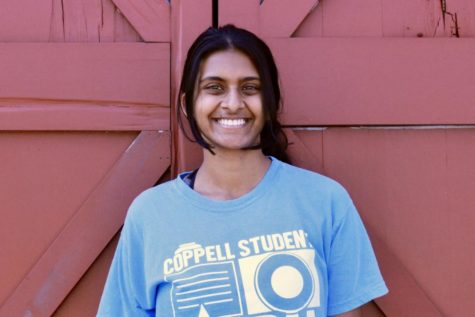 Pramika Kadari, Executive News and Enterprise Editor
Pramika Kadari is a senior and the Executive News/Enterprise Editor on The Sidekick. In her free time, she enjoys reading, writing, watching movies and...