On the Spot- Unique art using yarn greets campus on Monday
Walking into Coppell High School Monday morning, students were able to stroll under an art installation featuring yarn, covering the stairwells, and ceiling by the senior bridge.
This art installation was a part of a workshop on Saturday for three AP 3D Art students and two IB Visual Art students, who are exploring how space can be transformed and used as a medium, as well as working with fiber arts.
Gabrielle Duggan, a UNT professor from New York and a former fashion designer, taught the class.
"[Duggan], at one point in her life, started making [the fabric] even looser and looser to the point when the fabric was so loose that it started forming different shapes, and she liked how geometric it looked, and so she came up here and we got to learn how to work with the space we have," senior Jasmine Lau said.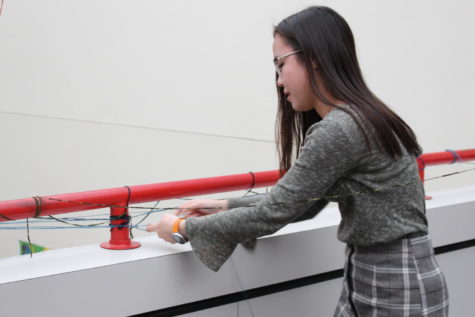 Following a short practice using yarn, frames and paint, the students worked from 10 a.m. to 3:30 p.m. on the installation, and continued adding more string on Monday.
What made the exhibition different from most others in the school was that the exhibition was site-specific and temporary.
"You can take the idea, but it will never be made the exact same way, meaning it is site-specific to Coppell High School,"IB Visual Art teacher Michelle Hauske said.
For these students, having everyone see their work was a mix of nerve wracking and thrilling.
"[I felt] a little self-conscious, but also excited, because people were going to be walking in and seeing all of the cool things we worked hard on and made over the weekend, and it just adds some bright colors to our normally boring school," senior Megan Bauer said.
Unfortunately, due to worries about it being a fire hazard and students pulling on it and cutting it, the installation was taken down by the end of the day.
Disha Kohli