New venue Four Points hotel hosts 8th annual Chamber Taste of Coppell event
As food is a universal and unifying factor all over the world, it is no surprise that the Coppell Chamber of Commerce's annual Taste of Coppell event continues to grow with restaurants and attendees every year.
On Sunday, the Coppell Chamber of Commerce and Frost Bank partnered to present this popular event for the eighth year with 35 restaurants and seven vendors participating.
The evening had something for everyone including salads from Salata and Crisp Salad Company for health-conscious attendees.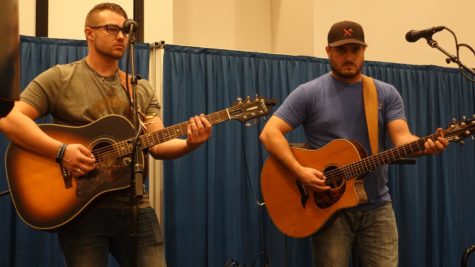 "This is the first time that Crisp Salad has been at the event here in Coppell," Crisp representative Gigliola Zimmermann said. "We have been getting good traffic and responses, we have heard a lot of people saying they have been to our restaurant and new customers." 
The Four Points at Sheraton Hotel bustled with the vibrant conversations and excitement of hundreds of Coppell citizens, families and foodies as each restaurant offered an unique culture and taste with each bite, sip or lick.
Coppell resident Linda Logan is a three-time attendee of the event.
"I preferred the other venue, the senior center, it was a lot prettier, this is kind of not very pretty," Logan said. "I've never been to this crepe place, so [I enjoy] trying new places."
For $35, adult attendees were able to enjoy a variety of desserts, drinks, appetizers and entrees.
New additions this year included the new venue at the Four Points at Sheraton with booths filling the expansive hall and Coppell vendors such as Roxy's Place, Let it Shine, Knockouts Haircuts and Indulgence Crafting Studio.
"We are located in Coppell, so it's a great venue and a lot of people know of us because of posts on Facebook, and we are part of the chamber so it's great for us to kind of get our brand out there," Coppell Indulgence vendor Britni Adams said.
The "Top Taste" winner, Fast and Furious (F&F) Express Japanese Grill located in Cypress Waters, was determined by attendees casting their vote into the ballot boxes.
Celebrity guests, such as Coppell Mayor Karen Hunt and Coppell city manager Mike Land, judged restaurants to name the "Fork Winners."