New iPads for sophomores bring up questions at CHS
An email was sent out to all Coppell High School sophomores on August 21st, informing them that they would be receiving new iPads. There was also a list of instructions on how to properly backup their former iPads.
However, no explanation was given for the reason behind this change, and why it was only sophomores receiving them.
Sophomores are receiving iPad Airs, while the remaining grade levels are using iPad 4s. The differences between the two devices are minimal.
According to CHS's head librarian Lynn Hevron, the new iPads have tempered glass screens and new cases.
As far as technical differences go, however, there are only a few. the Air weighs 6.5 less ounces, captures 30 more frames per second and is smaller in width by .6 inches.
Of the sophomores who have chosen to use the new iPads, many do not think the new iPads are any better.
"[I don't] think there is much of a difference," Coppell High School sophomore Banen Alabudi said. "I would be perfectly fine without it."
According to Stephen McGilvray, the executive director of technology at Coppell ISD, this is a part of the new iPad Sustainability plan, in order to keep the 1:1 initiative working.
The 1:1 initiative, or CG3 initiative, is the program that CISD created in 2013, in which all students in CISD, fourth-12th, receive one iPad per student, in order to assist with their learning.
"From this point forward, incoming sixth graders and 10th grades will receive a new iPad each year," McGilvray said. "The sixth grade iPads will be used for four years and the district will evaluate if the iPads can be re-purposed. The 10th grade iPads will be used for three years and when they are turned in at the end of their senior year, the iPads will be re-purposed to the elementary K-3rd grade levels."
While this plan has been in effect for sixth graders, this is the first time it has been brought into the high school.
Follow Claire on Twitter @cclements825
About the Photographer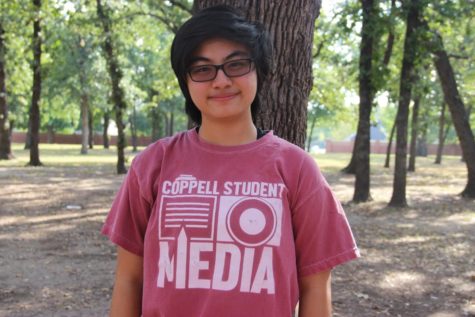 Wren Lee, Executive Design Editor
Wren is a senior. She moved here from the Land of Disney: Orlando, Florida. Yes, she went to Disney a lot. Yes, she has been to Universal. Wren adores...